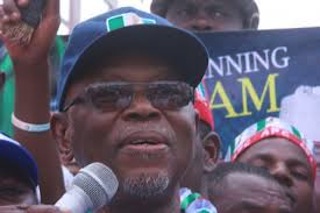 Nigeria's main opposition party on Wednesday accused the government of playing politics with Boko Haram, as it held its first major election rally.
"The PDP (Peoples Democratic Party) is sacrificing the lives of our brothers, of our sisters, of our children for very selfish political ends," said the All Progressives Congress national chairman, John Oyegun.
Oyegun questioned why the military — West Africa's largest — had failed to stop the Islamist insurgency and claimed it was because the three worst-affected states were all APC strongholds.
"They (the PDP) have allowed the insurgents to take over substantially controlled APC states," he told the rally in the capital, Abuja.
"President Goodluck Jonathan is so desperate to win re-election that it will now appear that there is a secret understanding that our security forces should turn a blind eye to the Boko Haram Insurgency so that the insurgents can occupy as much territory as possible and make elections impossible in these areas, knowing fully well these are APC strongholds.
"Otherwise, how does one explain that local hunters carrying Dane guns and amulets are capable of dislodging the dreaded Boko Haram while our once proud army, which has distinguished itself in and out of the country, has failed?
"We daily hear idle talks that the President needs to declare total war on Boko Haram. Pray, what has the Jonathan government been doing since the moment the state of emergency was declared the very first time? Or is the President saying that he declared and renewed the state of emergency several times only to cage the civil populace so that the insurgents can have a free rein.
"Without doubt, the war against Boko Haram has become a tool for self enrichment and a tool to disenfranchise Nigerians who are perceived not likely to vote for President Jonathan's re-election. Everything points to the fact that President Jonathan's handling of the Boko Garam insurgency is aimed at one thing and one thing only: disenfranchisement of persons who are perceived not to be in support of his re-election, especially in the North-Eastern part of the country.
"Is it not curious that Mubi was captured without one shot been fired by the insurgents or one single casualty on the part of Federal troops? As a matter of fact, we have it on good authority that as soon as President Goodluck Jonathan obtains the green light from the National Assembly, there will be no elections in the North-Eastern states of Adamawa, Borno and Yobe. By this singular act, some five million Nigerians will be disenfranchised, making Jonathan's
re-election a foregone conclusion.
"There is no limit to the length Jonathan has not gone in his obsession for re-election, using the kidnapped Chibok girls as pawns on his political chessboard. On the 17th of October, he cruelly played on the emotions and sensibilities of all Nigerians, especially the families, relations and associates of the kidnapped girls, when he asked his Chief of Defence staff to falsely announce that Boko Haram has agreed to a ceasefire and that the release of the kidnapped Chibok girls was just a matter of days. Of course, President Jonathan and his cohorts knew this to be false but he needed to deceive Nigerians so as to prepare their minds for his eventual declaration for re-election", Oyegun said in his prepared text.
The PDP has never been out of power in Nigeria since the country returned to civilian rule in 1999 and is widely expected to win the next election, which takes place in February next year.
But the opposition has been seen as stronger than ever after dozens of PDP state governors and lawmakers defected last year in opposition to Jonathan's bid for re-election.
Party officials have already raised fears about the integrity of the election result if the violence in the affected states prevents people from voting.
Jonathan on Tuesday asked parliament for a further six-month extension of emergency rule in northeastern states of Yobe, Borno and Adamawa to help end the violence.
More than 13,000 people have been killed since the insurgency began in 2009 and Boko Haram is now said to be in control of more than two dozen towns in its quest for a hardline Islamic state.
Opposition lawmakers in the upper chamber of parliament said the special powers, first introduced in May 2013, had been an outright failure, as bloodshed had increased and towns had been lost.
Oyegun and presidential candidate Muhammadu Buhari, a former military ruler, both denounced what they claimed was the ruling party's corrupt and inept leadership.
After "16 wasted years", the economy was in a "state of free-fall" and still overly reliant on oil but a recent fall in global prices risked hitting ordinary citizens hard, Oyegun added.
Load more