Eromosele Ebhomele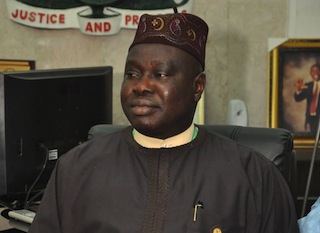 Speaker Adeyemi Ikuforiji of the Lagos State House of Assembly Wednesday evening called on Muslim clerics and faithful to pray for him to achieve his ambition to become the next governor of Lagos.
Ikuforiji is slugging it out in 2015 with other aspirants of his party including Ganiyu Solomon, Obafemi Hamzat, Akinwunmi Ambode and others on the platform of the All Progressives Congress.
Speaking at the eighth Annual Hijrah ceremony organised by the House, Ikuforiji said his eyes was fixed at making Lagos a greater place.
He told the huge gathering: "please pray for me to achieve my desire in order to make a 'Greater Lagos'; your prayer is highly needed. This will be appreciated indeed."
Ikuforiji recalled how the celebration of the Hijrah started eight years ago under his administration and further thanked God for making him the longest serving Speaker in Nigeria's history.
The Speaker further emphasised that the Islamic religion preaches peace, but lamented that some terrorist groups including the Boko Haram have been giving the religion a negative name with their activities.
According to Ikuforiji, the terrorist activities of the Boko Haram group remains un-Islamic and should be rebuked by every Nigerian.
He therefore urged the Muslims to always live by example and do what was right.
Related News
"Some of us have forgotten that our existence in this world is not by accident but rather through design of Almighty Allah and those fighting, turning cities and towns to hamlets are not in the cause of Allah because Islam entails balance and integration vis-à-vis spiritual and material, individualism and collectivism and between rights, duties and responsibilities.
"We enjoin good and pious people not to withdraw from this struggle and affairs of society, leaving it for the wicked to dominate," he said.
He further urged Nigerians and people of Lagos State who have not collected their Permanent Voters Cards to endeavour to do so calling the card "our weapon to fight oppression."
While urging those yet to register to do so, he appealed to the Independent National Electoral Commission, INEC, to "exercise patience" and give ample time, at least till end of the year, so that appreciable population would have obtained the card by then.
A Muslim scholar and Senior Lecturer, Department of Law, University of Ilorin, Kwara State, Dr. Abdulrrazzaq Abdulmajid Alaro, slammed Nigeria's leaders saying they only do better deceiving the people.
According to him, Nigerians end up serving their leaders who they voted for to serve them in the first place. He reminded political leaders of the promise to serve their people while seeking elections and urged them to change their attitude of becoming distant from the people.
Alaro, who took examples of leadership qualities exhibited by Prophet Muhammed and his disciples, told the gathering: "let's ask our leaders, another election is coming now, are you the one serving us or the one serving us?"
Also speaking at the event, another Muslim cleric, Barrister Abdullahi Adam Al-Ilory, said that independent judiciary was key to good governance in any society adding that the judiciary was an important institution of any society.