By Eromosele Ebhomele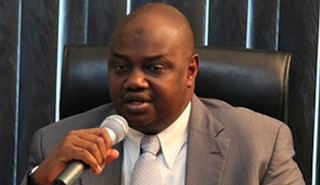 Fake officials of Nigeria's Economic and Financial Crimes Commission, EFCC, have been going about the country defrauding politicians, political aspirants and others in such category of millions of naira, the anti-graft agency has alerted.
The EFCC said despite arresting some of the these criminals, the syndicates have continued to grow just like the number of their victims.
The commission said these alleged fraudsters have also adopted various methods of getting prospective victims on their knees thus forcing them to cough out certain amounts either as plea bargaining or to destroy the case against such people.
"It has become necessary to alert the general public about the activities of fraudsters who have been impersonating officials of the commission and extorting money from members of the public under various guises," a statement from the EFCC on Tuesday and signed by its spokesman, Wilson Uwujaren, stated.
"Despite arrests and successful prosecution of some of them by the commission, the syndicates have continued to mushroom and change tactics as soon as their latest modus operandi are exposed.
"There have been of recent, a worrying upsurge in the number of fake invitation letters purported to have been issued by the EFCC, which the criminals are busy sending to unsuspecting members of the public, alleging high financial crimes against them.
"Pliable recipients of some of these letters have lost millions of naira to these gangsters in their desperation to forestall arrest and possible prosecution for unstated crimes," the commission said.
The agency however lamented that many Nigerians are still falling victims of the scam despite repeated warnings by the commission that no genuine EFCC invitation would request the recipient to call any private GSM number or any telephone line and that EFCC would not invite anybody to a meeting at any place other than the known offices of the commission.
The agency said a new dimension is that the criminal now send text messages to would-be victims, alleging that they have pending cases before the EFCC. They then offer proposals for a soft landing for these victims.
"This new gimmick is targeted at politicians, especially those who are aspiring to hold offices in the next dispensation," it said.
The EFCC added that its invitation letters do not bear personal telephone numbers and are usually signed by duly authorised officers and invitees are clearly instructed to report to a specified officer at the Commission's office.
"No EFCC invitation will require the invitee to report at any building or location outside the known offices of the Commission.
"EFCC invitation cannot be traded off under any circumstance; the Commission does not demand or accept payment, either to commence or discontinue an investigation;
EFCC does not invite persons under investigation via text messages.
"Any person who receives an invitation letter should confirm the authenticity of such an invitation from the Commission through the following email or telephone numbers: [email protected], 09-9044752 or 09-9044753.
"No authentic EFCC invitation letter will request anybody to contact an official by telephone. Rather, you are asked to report at EFCC office to be interviewed by a designated officer," the EFCC said, adding that, its known offices are:
5, Fomella Street, Off Adetokunbo Ademola Crescent, Wuse 2, Abuja;
15A Awolowo Road, Ikoyi, Lagos,
6A Olumeni Street, Off Forces Avenue, Old GRA, Port Harcourt; 4 EFCC Road, GRA Gombe; 2 Hajj Camp Road;
Kano and Plot 106 Federal Government College Road, Independence Layout, Enugu.
A few weeks ago, the commission arrested one Olubunmo Olalekan who had allegedly been churning out fake invitation letters and messages to prominent citizens and heads of organisations alleging fraud against them from his Akure base.
Now, his accomplice, Mohammed Yunusa Tope, a 30-year-old, who hails from Auchi, Edo State, has been arrested by the commission after he was picked up in a sting operation at a new generation bank in Kano as he attempted to withdraw the N2million he demanded from the head of a Federal Government agency.
Load more