Abiodun Onafuye/Abeokuta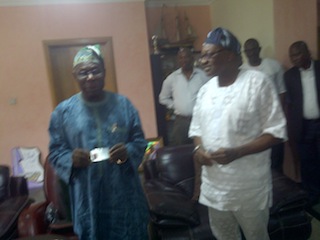 Former Nigerian President, Chief Olusegun Obasanjo today received his Permanent Voters Card (PVC) at his resident at the Obasanjo Presidential Hilltop, Abeokuta, the Ogun State capital.
The PVC was handed over to him by the State Resident Electoral Commissioner, REC, Mr. Sam Olumekun, accompanied by other top officials of INEC in the state.
At the brief programme, Obasanjo prayed to outlive the ten year span of the PVC.
According to him, "Let me thank you most sincerely, just few weeks ago, I got my national Identity card, I believed that our progress with that programme and this registration will go a long way to portray the country in good light.
"Since you say this will last for ten years, then my prayer to God is to outlive this card. This mean that if I outlive this card, I can be smiling. But then, it is only the grace of God," Obasanjo said.
Commenting on the complaints that trailed the distribution of PVC and the just concluded Continuous Voters Registration exercise in the state, the former president stated that: "I heard that some people were complaining that they have not gotten their cards. I do not complain because I know that I will eventually get my card.
"But people that genuinely complain should be attended to before the elections. So whatever corrections, and whatever needs to be done should be done so that many people will not be disenfranchised," Obasanjo advised.
He also advised the people to take care of their PVC, saying that they should keep it well as if it is money, "I will keep my card, and I will also advice people to treasure this PVC as if it is money."
Earlier, the State Resident Electoral Commissioner, Sam Olumekun thanked the former president for his support and pledged that INEC will do all necessary things to ensure that no Nigerian is disenfranchised.
Load more