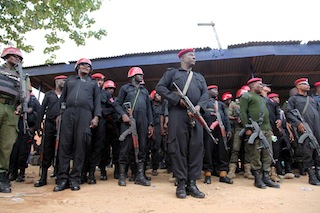 The Nigerian police claimed it sent its men to the premises of the National Assembly in Abuja today after it learnt of a planned invasion of 'hoodlums and thugs'.
According to a statement by spokesman, acting police commissioner, Emmanuel Ojukwu, the police got wind of the 'invasion' from 'intelligence' report.
"Consequently, the Police cordoned the area and began screening of all members and visitors alike.
"In the course of this lawful exercise, Alh. Aminu Tambuwal CFR, arrived the venue with a motley crowd, who broke the cordon, assaulted the Police and evaded due process and the Police had the duty to restore order and normalcy, using lawful means".
The motley crowd that Ojukwu referred to were members of the House of Representatives, who came in with the Speaker, to attend an emergency session to deliberate on President Goodluck Jonathan's request for an extension of the state of emergency in the three states of Adamawa, Yobe and Borno, in Nigeria's north-east.
Tambuwal was disallowed from entering the assembly, but his colleagues broke through the police cordon to allow him gain entry. Many members of the house scaled the gate to be able to enter the assembly.
Police fired teargas several times into the premises of the National Assembly, causing chaos. So much was the pandemonium that the Senate President ordered the closure of the assembly till next Tuesday. The Inspector General of Police, Abba Suleiman has been ordered to appear at the Senate to justify his action.
But the police appeared to be blaming 'thugs' for defying their blockade.
"The IGP seizes this medium to warn all political actors and their followers to respect constituted authority and due process and to desist from the use of thugs to pursue their agenda.
"The Nigeria Police shall continually apply all lawful means to prevent a breakdown of law and order in all segments of the society and shall apply the full weight of the law on any political actor who violates the peace and security of the nation. "
Load more