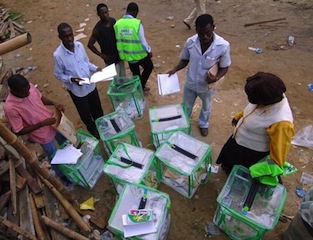 Nigeria's general election is on track to be "volatile and vicious", the International Crisis Group (ICG) said Friday, warning that "an increasingly violent" political climate must be checked to avoid widespread unrest.
The concern came a day after police fired teargas inside parliament, apparently targeting one of the country's most powerful lawmakers, who defected from the ruling party to the opposition last month.
"Mitigating bloodshed before, during and after the polls requires urgent improvements in security and electoral arrangements and, most importantly, in political mindsets," the think-tank said.
For the ICG, the risk of unrest before next February's elections is particularly high because old tensions have not been resolved and new developments could prove inflammatory.
The 42-page report notes the stated desire of some leaders in the mainly Muslim north to take back the presidency from the mostly Christian south at any cost.
President Goodluck Jonathan, a southern Christian, will be the ruling Peoples Democratic Party (PDP) candidate, while the new opposition coalition, the All Progressives Congress (APC), is almost certain to nominate a northern Muslim.
The emergency of the APC, which groups most of Nigeria's leading opposition parties, could also raise tensions, the Brussels-based ICG said.
"This will be the first nationwide contest essentially between two parties… since the return to civilian rule in 1999," the report said, noting relations between the PDP and APC are hostile and the rhetoric often violent.
The five-year Boko Haram Islamist uprising, which has cost more than 13,000 lives, is raging with no end sight and Nigeria's elections body has conceded that voting could be impossible in three of the hardest-hit northeastern states.
"An election not held in all states may… fall short of the constitutional requirements for electing a president", the report suggested.
A contested result could easily set fire to a combustible political atmosphere, it added.
The ICG also noted the growing opposition view that the security services function as political enforcers for the PDP, a concern reinforced Thursday when police sprayed teargas on senior opposition lawmakers who were trying to enter parliament for a vote.
The number of arms being imported into Nigeria also appears to be at an historic high, the Crisis Group said, with civilian militias having been used previously by politicians during past elections.
"As Africa's most populous country and largest economy, Nigeria would present a very real security threat if destabilised by election violence," says the ICG's Africa Programme deputy director EJ Hogendoorn.
"Salvaging the situation requires concerted efforts by all national actors as well as international partners," he added.

Load more