Abiodun Onafuye/Abeokuta
A member of the National Conference from Ogun State, western Nigeria, Barr Bisi Adegbuyi, said his political party, the All Progressives  Congress (APC) would have done the nation a great deal of good by fielding the former Head of State and presidential aspirant of the party, General Muhammadu Buhari as its presidential candidate in the 2015 election.
He also said the present governor of Lagos State, Mr. Babatunde Fashola, whom he described as a game changer, should be picked as Buhari's running mate.
Adegbuyi stated that the two have the antidotes to turn this country around for the better, noting that, they can defeat the incumbent rulers and lead Nigeria out of the doldrums it has been plunged into by the Peoples Democratic Party (PDP)-led administration of President Goodluck Jonathan.
He stated this while speaking as a Guest Speaker at a programme organised by the APC Youth League, Ogun State chapter in collaboration with Ogun Good Governance Initiative and Vision in aid of Citizen Foundation.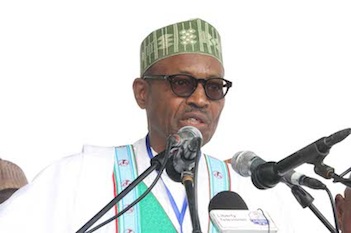 The programme which was held at the Valley View, State House, Oke Igbein, Abeokuta, had in attendance political juggernauts from all parts of the state.
According to him, "the state of the nation is worrisome. We are in a serious dilemma and not even a young student in this country would be deceived that all is well with us in this country. The only antidote for all these abnormalities is a man of uncommon character, someone who had served this country and for just few years he spent, everybody was happy and the record is there for all of us.
"This man can do it, he is a tested and trusted Nigerian and the man I am talking about is no other person than General Muhammadu Buhari. To now cap it all, let's root for the game changer himself, Governor of Lagos, Babatunde Fashola. I don't mind the Muslim-Muslim ticket, what we need is those that will salvage this country from sinking.
"Buhari is our man, he is our candidate. If we want to stop all these brigandage in government, if we want the roads to be fixed, the power to be there, security to be guaranteed, we should all vote for Buhari-Fashola ticket on the APC platform."
Adegbuyi is optimistic that Ogun people will support Buhari.
"Amosun knows good things because he is a good man. He is a good friend of Buhari himself and I believe that the delegates from Ogun State will surely cast all their votes for Buhari. Having said that, I am not saying that other aspirants are not also good and I want to say that all the aspirants are qualified and that shows the stuff our great party is made up of, but Buhari-Fashola ticket will be good for us in this country,"  Adegbuyi said.
Governor Amosun, while speaking at the event, called on all the people of the state to allow peace to reign before, during and after the general elections next year.
He admonished the people to ensure that they keep their voters cards as that is the first step towards voting for their choice candidates during the elections.
Amosun, who was represented by the Secretary to the State Government, Barr. Taiwo Adeoluwa, advised that youths who have been a veritable tool in nation building, should not allow themselves to be used by some greedy politicians.
Other Speakers at the event were Senatorial aspirant from Ogun West, Chief Adeniji, an Abeokuta House of Representatives aspirant, Barr. Gbeminiyi Ijaola and others who urged people of the state to vote for Amosun in 2015.

Load more