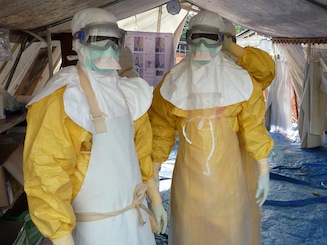 A Cuban doctor infected with Ebola in Sierra Leone arrived late Thursday in Geneva, where he will be treated for the deadly virus.
A plane carrying Felix Baez Sarria landed at Geneva airport and he was rushed into an ambulance which then sped, surrounded by a four-car convoy, towards a nearby hospital around midnight (2300 GMT Thursday), an AFP photographer said.
The Geneva University Hospital (HUG) has agreed to care for the first Ebola patient to be brought to Switzerland.
The 43-year-old doctor is one of about 165 Cuban medics working in Sierra Leone to try to stem the outbreak, which has killed 5,420 people and infected 15,145, most in west Africa, according to the latest figures from the World Health Organization.
The Geneva hospital has a long history of caring for patients with haemorrhagic fevers that resemble Ebola, surgeon Jacques Andre Romand told AFP.
He stressed that the hospital had top-notch security.
"We probably have more secure procedures than what WHO requires," he said, voicing absolute certainty that the Cuban doctor would not infect anyone during his stay at the hospital.
HUG is one of two Swiss hospitals where potential Ebola vaccines are being tested on volunteers.
The deadliest outbreak of Ebola ever has especially affected three countries in west Africa, with Sierra Leone seeing the steepest increase in new cases.
Medical professionals have been particularly affected by the worst Ebola outbreak on record. Out of the 584 healthcare workers known to have contracted the virus, 329 have died.
Cuba has played a large role in intensifying global efforts to fight the outbreak in the three worst-hit countries of Liberia, Sierra Leone and Guinea, sending around 250 nurses and doctors to the region with another 450 to come.
Load more