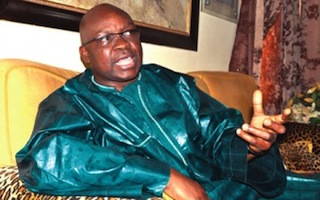 Governor Ayodele Fayose has endorsed the impeachment of the Speaker of the Ekiti House of Assembly,Adewale Omirin and his deputy, Orisalade Adetunji Taiwo, by seven members of the house.
The Assembly has 26 members.
Nineteen of the members were in Lagos Thursday as the tragic-comedy unfolded in the House, in a state christened 'Land of Honour'.
What the minority members did however was far from being honourable, observers said.
But Governor Fayose has demonstrated support for the illegality, with his government asking Omirin and Adetunji Taiwo to return all state property in their possession.
Secretary to the State Government, (SSG), Dr. Modupe Alade in Ado-Ekiti, issued the order in Ado Ekiti on Thursday.
The statement congratulated the "new Speaker" of the Ekiti State House of Assembly, Mr Dele Olugbemi and the "Deputy Speaker", Mrs Abeni Olayinka, on their ascension to office.
The statement assured the new helmsmen of the readiness of the state government to work with them.
Fayose's government called for a smooth working relationship between the new leadership of the House and the Fayose administration in order to move the state forward.
Alade charged other lawmakers who had gone on self exile to return and perform duties they were elected for.
According to the statement, "you should not stay in exile if you were truly elected by the people of Ekiti."
It called on the police to provide security befitting the office of the Speaker and the deputy.
It warned trouble makers to steer away from Ekiti, stressing that the law enforcement agents would not allow anybody to foment trouble.
The statement advised Ekiti people to go about their normal duties and continue to give their support to the administration.
The impeachment by the minority members has been a subject of ridicule on social media, with bloggers wondering how the act of seven members against a majority 19 members would be allowed to stand by a sane government.
But the action was in line with the character of the PDP, in the management of Nigeria's affairs since 1999.
The impeachment of Joshua Dariye as governor of Plateau state was executed by five members of the Plateau House of Assembly under tight security by the Nigerian Police Force in November 2006.The Assembly normally has 23 members.
The PDP also last year demonstrated its disdain for mathematics, when it broke the Governors Forum led by Rivers State Governor, Rotimi Amaechi. The latter had beaten Jonathan's candidate, Jonah Jang of Plateau for the chairmanship of the forum, 19 to 16. But President Jonathan's camp insisted that 16 must be greater than 19.The Forum broke into pieces thereafter.
Mathematicians will surely weep for Nigeria at the way simple Arithmetic is being mangled by the PDP!
Load more