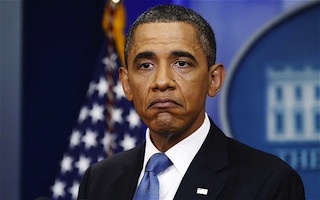 Senate Republicans called Thursday for US President Barack Obama to submit any text of an agreement with Iran to Congress and warned against unilaterally lifting sanctions, as negotiations continue with Tehran over its nuclear program.
"We are alarmed by recent developments in your administration's policy toward Iran, including reports that your administration plans to circumvent Congress and unilaterally provide significant sanctions relief under a comprehensive nuclear agreement with Iran," read a statement signed by 43 of the Senate's 45 Republicans.
"Reported plans to circumvent Congress suggest that your negotiators may be concluding a weak and dangerous deal which will prove unacceptable to the American people," the letter said.
The five permanent members of the UN Security Council plus Germany (the P5+1) and Iran met in Vienna again Thursday for final discussions before a November 24 negotiation deadline.
The negotiations could pave the way for the first major detente with a country that has been a US adversary for decades.
Republicans are demanding that Iran dismantle its nuclear infrastructure, and increase transparency of its nuclear weapons program. They have also asked Obama to push Tehran to rein in its intercontinental missile program and stop its support for terrorism.
"We will continue to seek to impose additional pressure on Iran in the months ahead unless Tehran abandons its nuclear ambitions and pursues a genuinely constructive path in its relations with the world," the senators said.
The Republicans warned that without consulting Congress it's unlikely any agreement will last.
Republicans will control the US House and Senate beginning next year.
The White House has had a free hand to negotiate in Vienna with the Iranians without interference from Congress.
But numerous elected officials from both parties have questioned Iran's sincerity and have expressed fears the president may concede too much to reach a historic deal.
"We are greatly concerned by reports that Iran is seeking to keep — and not dismantle — much of its nuclear infrastructure. Conceding enrichment to Iran is a fundamental and risky departure from decades of US non-proliferation policy," a bipartisan House statement said.
Economic sanctions against Iran were adopted almost unanimously by Congress last year.
Load more