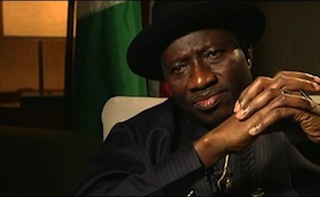 The Society of Gynaecology and Obstetrics of Nigeria (SOGON), has appealed to President Goodluck Jonathan to sign the National Health Bill into law.
The President of the Society, Dr. Fred Achem, made the appeal in his address at the opening of the 48th Annual General Meeting (AGM) and Scientific Conference of the society in Asaba on Thursday.
He said that the bill, when signed by Mr President, would promote primary health care in the country.
Achem said such law would help propel the efforts of various stakeholders in the health sector to achieve efficient health care delivery for all Nigerians.
"We believe that by signing this bill into law, it will unlock the potentials of bringing primary health care back to the front burner of our national life.
"It will also go a long way to help all stakeholders in the health sector in our various commitments to save the lives of our people," Achem said.
"It is interesting to know that the most recent survey estimated that there were about 289, 000 maternal deaths in the world in 2013.
"Sixty percent of these maternal deaths were recorded in Sub-Sahara Africa, with the greatest total number occurring in Nigeria," he said.
Achem explained that the estimated life time risk of maternal mortality in high income countries was one in 3,400 cases, while in low income countries like Nigeria it was one in 52 cases.
He said SOGON had vowed to give the task of reducing the high rate of maternal deaths a top priority.
Achem stated that for the Society to evolve a five-year strategic development plan in 2017, it would seek to focus in six thematic areas.
He listed the areas to include governance, human resource development, service delivery, finance, knowledge management and research innovation.
"Over the last three years, we have been able to look ahead to see what we can do to impart in the lives of our women, particularly the reduction of maternal mortality rate.
"We have also worked very hard on maternal death review over the past few years to see how best we can help as a society of professionals to contribute in addressing the challenges," Achem said.
Governor Emmanuel Uduaghan of Delta lauded the society for its commitment to addressing the challenges of high infant and maternal mortality rates.
He said Delta Government had made huge investment in the health sector in its determination to provide affordable health care delivery for its citizens.
NAN reports that the conference featured the induction of 44 new members and presentation of awards of excellence to two prominent members.
They are Prof. Joseph Otubu and Prof. Mutairu Ezimokhai, both of who received awards of excellence in administration.
Load more