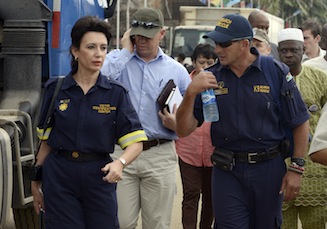 A coroner on Friday said he would leave it to a higher court to decide whether an influential Nigerian preacher should give evidence at an inquest into the deaths of 116 people at his Lagos megachurch.
TB Joshua, the high-profile head of the Synagogue Church of All Nations (SCOAN), has twice failed to appear to give evidence at the inquest into the September 12 tragedy, despite being summonsed.
That had prompted the coroner, Oyetade Komolafe, to threaten to order Joshua's arrest.
But on Friday, Komolafe made the decision to suspend the summons after hearing a submission from Joshua's lawyer who said a legal challenge into the coroner's jurisdiction would be heard next month.
Komolafe agreed to wait until the outcome of a Lagos High Court hearing into whether he had exceeded his powers to force the preacher to testify.
Joshua's lawyer, Oyetade Ojo, told the court that the hearing would take place on December 3.
Komolafe told the lawyer his message to the preacher "is that he is not above the law. We will allow the high court to decide. The impression should not be created that the state is after him."
Joshua, a self-styled miracle worker and seer who counts presidents and politicians from across Africa among his flock, has claimed that the building collapsed due to sabotage or an attack.
But expert witnesses have said that the victims — who included 81 South Africans — showed no signs of blast injuries while buildings on the SCOAN site suggested a number were structurally unsound.
Engineer Bede Obayi, of the Standards Organisation of Nigeria, said checks had been made on the materials used on the guesthouse.
"We took samples of the concrete debris and steel bars for material testing," he told the court.
"We found that most of iron bars used were OK but for concrete debris, we needed to see the contractors to know if the right mix of sands, cement, gravel and water was done.
"We were told that the contractors were not available. We have suspended our work following the setting up of this inquiry. So, our report is inconclusive and a subject of further investigation."
The building contractor was summonsed with Joshua but has also failed to appear.
The court has heard that the guesthouse did not have planning permission and Obayi, whose organisation regulates products from materials to foodstuffs, said planning permission was vital.
"Building must be in accordance with the approved plan. A building must have architectural and structural drawings which should be approved by (the) relevant authorities before it can be erected to ensure its structural stability," he added.
The inquest was adjourned until December 3.
Load more