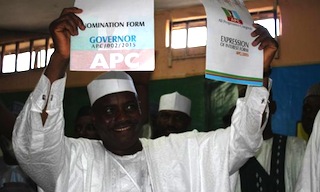 Speaker of the House of Representatives, Aminu Tambawal, on Friday collected his governorship nomination form at the Sokoto State office of the All Progressives Congress (APC).
Tambuwal who recently switched from Peoples Democratic Party (PDP) to APC said he will continue the good works of outgoing governor, Aliyu Wamakko.
Tambuwal who was blocked from gaining entrance to the National Assembly premises on Thursday was unperturbed by the actions of the police.
During the presentation of the form, Tambuwal stated that he would ensure team work and unity for the development of the state.
"My presence here today is in response to call by the good people of Sokoto State for me to come back home and serve them in the capacity of governor and I formally present myself as an aspirant and to purchase an expression of interest form for governorship election.
"I also assure that if given the mandate, we shall carry everyone along and in tune with the value system by ensuring the peace and stability of Sokoto State."
He described Wamakko's spirit of political resilience and cohesion as one of a true and competent leader who has done commendably well by offering himself for service to the people of the state.
"We and the entire north are proud of you," Tambuwal stated.
It would be recalled that Tambuwal ditched his ambition to contest for the position of president after wide consultation with friends and family.
Load more