Taiwo Adelu & Friday Oriaifo
Governor Babatunde Raji Fashola has said that he saw Super Eagles' failure to qualify for the 2015 Africa Cup of Nations coming.
Nigeria had a woeful campaign in the just concluded 2015 AFCON qualifying series with the country taking third position in a group that saw South Africa and Congo picking tickets to play at the Nations Cup taking place in Equatorial Guinea next year.
Governor Fashola, a former football star, who still finds the time to play alongside other ex players at the All Stars International of Lagos said on Sports Tonight on Channels Television Thursday that the majority of the Eagles stars Coach Stephen Keshi used in the qualifying campaign were average players who could not boast of full 90 minutes of action in their respective clubs abroad.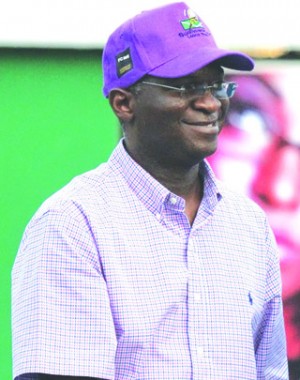 The Governor noted that it  was time coach of the senior national team looked for experienced players who were match fit when making call ups for national assignments.
"Except for Ahmed Musa who we see every week making first eleven for his club in Russia and in the Champions League, hardly can we see any other player in the Super Eagles who is regular for 90 minutes for his club abroad. The majority of them only played for 15 minutes as substitutes and we expect them to come for a national duty to play a full match? I saw Musa as the only versatile player in our team, which is not supposed to be," Fashola said.
The Governor said the solution to the problem in the Eagles is for the country to go back and develop the local league from which the pool of the Eagles will always come in the future.
He said grassroots sports development is a policy of the government in Lagos State to discover and groom talents from the grassroots.
Fashola also frowned at the involvement of governments in the administration of football clubs in the country, adding that government at all levels should be regulators not operators of clubs.
"That's why I refused to put government money into the running of football clubs in Lagos because we cannot be the sole owner of clubs, which have be private sector driven teams," he said.
Load more