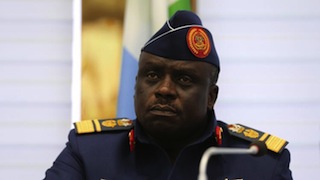 The Chief of Air Staff, Air Marshal Adesola Amosu, said on Friday that the Nigerian Air Force (NAF) would continue to sustain its maintenance culture for all its operational aircraft.
Amosu said this after the decoration of 35 newly promoted Group Captains to the rank of Air Commodores.
He assured that the air force would continue to be efficient in delivering airpower to support our ground forces.
"When it comes to aircraft, the issue of age, you can think about it but again what you must focus on really is the serviceability.
"You could have an aircraft, maybe 52 years old. But it is still being effectively utilised for war.
"It's your maintenance schedule. If you give it the best of maintenance, sometimes an aircraft that is even 20 years old may even be airworthy than the ones that are just about two years old.
"It depends on maintenance approach and the culture that you have been developed over the years.
"I want to assure that Nigerian Air Force, we are to provide very safe platform for flying, and then we are very cautious of the need to be efficient, even in terms of delivering air power to support our ground forces."
Amosu said that the decoration of the officers was a mixed celebration even as the NAF was still mourning the death of its officers during the unfortunate helicopter accidents.
He said that it was equally significant to elevate senior officers so that "we can continue to render services to the nation."
The NAF chief said that promotion was not a right but a privilege given to deserving officers primarily in order to enable them carry out higher responsibilities.
He enjoined the officers to continue to toe the path of honour and integrity in order to justify the confidence reposed in them.
"I need not over flog the popular saying; 'to whom much is given, much is expected'.
"As officers of air rank, your duties and tasks will be more tedious, and crucial.
"Henceforth, you would not only be responsible for your actions and inactions, but you would also be accountable for the actions and inactions of all personnel placed under your command.
"You are, therefore , expected to be thorough and unassuming."
Amosu told the officers that their strategic guidance was to quickly key into the NAF transformation plan to reposition it as "a highly professional, flexible and innovative service."
"Do not encourage complacency and mediocrity. Towards this, I urge you all to be more purposeful and result-oriented in handling the affairs of the NAF and the nation.
"Most importantly, I must use this forum to urge you all to see the present security challenges as one that must be overcome.
"We must remain courageous, resolute and undeterred to defend the sovereignty and territorial integrity of our great nation at all costs."
Responding on behalf of the newly promoted officers, Air Commodore Mohammed Suleiman, pledged that the officers would do their best to justify the confidence reposed in them.
Load more