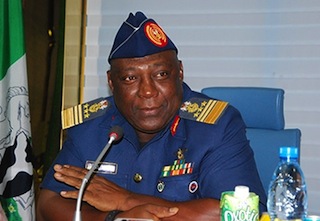 The Chief of Defence Staff, Air Chief Marshal Alex Badeh on Friday, called on Defence Attachés and Advisers to project positive image of the country in the places they serve.
Badeh made the call in Abuja at the close of a weeklong Conference of the Defence Attaché and Advisers (DAs) organised by the Defence Intelligence Agency.
He said, "beyond the performance of your primary responsibilities as DAs, you have the added responsibility of working much more closely with your respective ambassadors.
"This is to change the increasing negative perception of our dear country and the military in some of the countries in which you are serving.
"It is also to continue to project positive image of our country due to activities of persons who do not wish our country well.
"I therefore urge you to continue to be good ambassadors of the armed forces of Nigeria in countries you are deployed to."
Badeh assured the DAs that the Defence Intelligence Agency, in conjunction with the Ministry of Defence, would do everything possible to ensure that they carried out their jobs effectively.
He enjoined them to be prudent and judicious in the utilisation of resources allocated to them in view of dwindling government resources.
"Be reassured that resolutions reached at the conference will be given the attention they deserved at the appropriate quarters.
The Chief of Defence Intelligence, Rear Adm. Gabriel Okoi, said the conference will reinvigorate the DAs to contribute their quota in proffering solutions to the security challenges facing the country.
"I have no doubt that your experience from your various countries you are accredited to will be invaluable to the contributions of the agency in enhancing national security.
"It is in this context that the DAs' annual conference is an important event in the agency's forecast of events.
"The agency on its part will continue to further Nigeria's defence effort through intelligence cooperation with several countries."
Okoi said the initiative was to bolster the warning system; as it was increasingly self evident that most nation's current internal security challenges appeared to have external connections.
He said the initiative was in line with the agency's mission to "produce timely intelligence support to defence partners and decision makers to effectively enhance national security.
"We shall continue to count on our esteemed political leaders to be able to implement this initiative and to pursue our vision."
Load more