Eromosele Ebhomele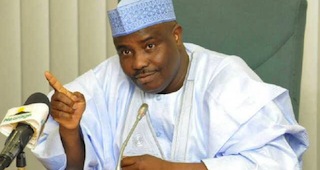 Embattled Speaker of Nigeria's House of Representatives, Aminu Tambuwal, has told the country's police boss, Suleiman Abba, that he was not afraid of the police.
Tambuwal, who slammed the police force for its shameful showing at the National Assembly where men of the force engaged in a futile effort to bar the Speaker and his supporting legislators from presiding and attending the sitting called to discuss a request by President Goodluck Jonathan, said he would honour any legal invitation by the police.
The police IG, it was reported, has ordered that the Speaker be invited concerning the near fracas that broke out at the National Assembly on Thursday.
In a statement on Saturday signed by Imam Imam, Tambuwal's media aide, the Speaker said it was a shame to know that the police that is supposed to be a neutral institution, suddenly took upon itself the toga of illegality and partisanship in the country.
"The attention of the Speaker, House of Representatives, Aminu Waziri Tambuwal CFR, has been drawn to publications in the media to the effect that the Inspector General of Police has ordered that he, Speaker, be invited to the Force Headquarters and that he be arrested if he resisted.
"The Speaker wishes to state that he is a law abiding citizen of the Federal Republic of Nigeria who has no immunity against arrest and prosecution except privileges as may be provided by the Legislative Powers and Privileges Act.
"Accordingly, the Speaker states for the records that he is available, ready and willing to answer any lawful invitation from any of the security agencies on any matter for which they may require his attention.
"The Speaker expresses dismay at the unprofessional conduct of the Nigerian Police in the attempt to stop him from accessing the House of Representatives chambers on the 20 November 2014 to preside over the Special Session of the House on the State of Emergency Extension requested by Mr President, for which he had recalled members from their working recess.
"Most disgraceful is the false statement later issued by the Police in which they claimed that in the lawful exercise of their duties 'Alh Aminu Tambuwal CFR, arrived the venue with a motley crowd, who broke the cordon, assaulted the Police and evaded due process'.
"This blatant falsehood coming from a law enforcement agency that is expected to be neutral and lawful, is unfortunate, to say the least.
"For the avoidance of doubt, the Hon Speaker came to National Assembly accompanied by Hon Members as is customary during any sitting of the House. They all came with their official vehicles but were disallowed from driving into the premises.
"Certainly Honourable members, who arrived the precinct of the National Assembly in response to a call to perform an urgent, critical national assignment, cannot be described by any self respecting institution as 'a motley crowd'."

Load more