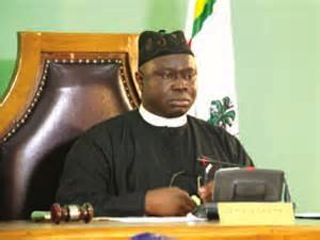 Adeyemi Ikuforiji, Speaker, Lagos State Assembly, has condemned the alleged invasion of the state office of the All Progressives Congress, (APC) by suspected operatives of the Department of State Services (SSS).
Ikuforiji made the condemnation in a statement made available to NAN on Sunday in Lagos by his Chief Press Secretary, Mr Rotimi Adebayo.
NAN reports that the APC state secretariat was allegedly ransacked on Saturday by people suspected to be security agents.
"The unprovoked and needless forceful invasion of the IT Centre of the APC in Lagos State by men suspected to be agents of the DSS has come to my notice and the entire members of the Assembly with total shock and disbelief.
"While this unwarranted invasion should never have been allowed to happen, it should however be condemned by all right thinking Nigerians as it portends grave dangers for our tottering democracy.
"It is even the more worrisome and depressing that this invasion is coming barely three days after the police high command sealed off the Federal House of Representatives," he said.
Ikuforiji said the duty of the security agents was to protect lives and property in the country. "It is very sad and unfortunate in the overall interest of our nation's democracy for the security forces to act in such a way.
"It may portend grave danger for our fledgling democracy," he added.
Load more