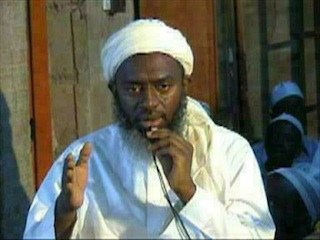 Sheikh Ahmad Gumi, the Kaduna based muslim cleric said President Goodluck Jonathan has entered a cul-de-sac with the ruling Peoples Democratic Party, with all his strategies failing, one after the other.
He spoke in a statement following the fracas at the National Assembly on Thursday, during which policemen, some hooded, attempted to block the entrance of the Speaker of the House of Representatives, Aminu Tambuwal.
To Gumi, the attack on the National Assembly should serve as an elixir to awaken members about their responsibility, which is to serve as "antidote to political impunity and despotism".
"The National assembly is the heart of our collective existence. It's the core of the democratic governance and the antidote to political impunity and despotism. For long it has been paralyzed by the executive which capitalizes on their human weakness – greed. Now the hour is come. The NASS can never be the same again. This one and the next elected members by God's leave. Nigerians are learning and very fast indeed.
"As for Goodluck Ebele Jonathan- who didn't listen to the words of wisdom before- has already entered a cul-de-sac with his party. To many analysts he has failed, and all his strategies are flunking one after another. He is going down the drain of the merciless history and falling at acceleration. In fact, you only need to be at the peak to start falling down.
"Please Nigerians allow him to fizzle out slowly and naturally without dragging Nigeria to fall with him. He was told by his mentor that he was divisive. His sycophants said no. Now he is even able to break the honorables. This particular incidence has eroded his political potency if only his advisers will for once tell him the truth. PDP is this what you want to recycle? A divided nation?
"Sorry the Nigerian Military cannot come into the scene to any rescue – if that is in the pipeline. Our democracy has matured enough and thanks to the lopsided composition of the force that has weaken it even in the face of fragile almajiris.
"Any mutiny will be circumscribed and excised neatly. The nation is too big too large too diverse for any few adventurist and power hungry cabal. I don't advice any military man to commit suicide.
"Let us surrender Nigeria under God to Nigerians. NASS and INEC over to you. May Allah continue to heal the nation for all. Amin."
Load more