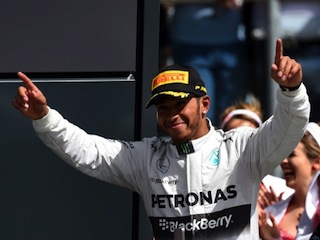 Lewis Hamilton was crowned the 2014 world drivers' champion on Sunday after winning the season-closing Abu Dhabi Grand Prix.
The 29-year-old Briton, who won his first title in 2008, claimed his 11th win of the Formula One season to finish on 384 points.
The title challenge of pole sitter Nico Rosberg, Hamilton's Mercedes team-mate, petered out when he suffered engine problems with the German trailing in out of the points.
"Woooooaaahh world champion, oh my God, can't believe it, thanks everyone," Hamilton exclaimed after taking the chequered flag.
One of the first to congratulate him was Britain's Prince Harry, who said from the Mercedes garage: "Well done Lewis, you are a legend."
Hamilton won the final race of the season from Williams's Felipe Massa with the second Williams, driven by Valtteri Bottas, third.
Rosberg, who suffered the ignominy of being lapped by Hamilton, came in 14th.
He finished second in the drivers' race on 317 points, with Red Bull's Daniel Ricciardo in third place.

Load more