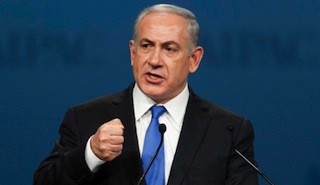 Israeli Prime Minister Benjamin Netanyahu warned Sunday that France's parliament would be making a "grave mistake" if it recognises a Palestinian state in a vote on December 2.
"Do they have nothing better to do at a time of beheadings across the Middle East, including that of a French citizen?" he told reporters in Jerusalem, referring to hiker Herve Gourdel who was executed by his jihadist captors in Algeria in September.
"Recognition of a Palestinian state by France would be a grave mistake," Netanyahu said.
"The State of Israel is the homeland of the Jewish people, the only state that we have, and the Palestinians demanding a state do not want to recognise the right to have a state for the Jewish people," Netanyahu told members of Israel's growing Jewish community from France.
His comments came just hours after his cabinet voted 14-6 in favour of a controversial proposal to anchor in law Israel's status as "the national homeland of the Jewish people".
France's plans for a non-binding but highly symbolic vote follows similar resolutions passed by the British and Spanish parliaments, and an official decision to recognise Palestine by the Swedish government.
Sweden's move infuriated Israel which responded by recalling its ambassador to Stockholm.
A draft of the proposal in France "invites the French government to use the recognition of the state of Palestine as an instrument to gain a definitive resolution of the conflict".
European leaders have shown signs of mounting impatience with Israel over its continued settlement-building on Palestinian land.
Criticism has become more focused in the wake of this summer's 50-day offensive by the Israeli army in Gaza that killed about 2,200 Palestinians and dozens of Israelis.
The French parliamentary vote follows a similar resolution to "recognise the state of Palestine alongside the state of Israel as a contribution to securing a negotiated two-state solution" approved by British lawmakers on October 13.
Israel warned that the British resolution, which passed with a huge majority but is also non-binding, risked undermining peace prospects.
Sweden went further by announcing on October 30 that it officially recognised the Palestinian state, a move heavily criticised by Israel and the United States.
The Palestinian Authority estimates that 135 countries have now recognised Palestine as a state, although the number is disputed and several recognitions by what are now European Union member states date back to the Soviet era.
France was among 14 EU nations which voted in favour of granting Palestinian territories observer status at the United Nations in November 2012.
Load more