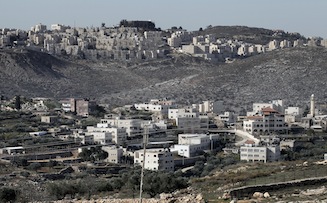 Suspected Jewish extremists firebombed a house in a Palestinian village in the occupied West Bank early on Sunday, its mayor told AFP, pointing the finger of blame at local settlers.
"At 4:00 am (0200 GMT), settlers came and threw molotov cocktails at a house which partly burned down," said Masud Abu Mura, mayor of Khirbet Abu Falah, northeast of Ramallah.
He said four women were inside the house at the time, but they all escaped unharmed.
Near the house, the assailants scrawled "Death to Arabs" in Hebrew.
Mohammed Abdelkarim Hamayel, whose aunt and two female cousins live in the house, said the assailants were believed to be from the Shilo settlement, a few kilometres (a couple of miles) to the north of the village.
"In the middle of the night, my aunt woke up when she heard voices speaking Hebrew. Someone knocked on the door but she didn't answer because she was afraid," he told AFP.
"They threw a tear gas canister and several molotov cocktails at the balcony which caught fire."
Israeli police, who are responsible for all settler-related incidents in the West Bank, said forensic investigators and members of the nationalistic crime unit were at the scene.
"It is a two-storey house and the fire caused major damage to the ground floor," spokeswoman Luba Samri said.
On November 12, a mosque in the neighbouring village of Al-Mughayir was set ablaze in another arson attack blamed on local settlers.
Sunday's attack bore the hallmarks of so-called "price tag" violence — a euphemism for nationalist-motivated hate crime by Jewish extremists aimed at Arab property.
Such attacks began as a reaction to state moves against the settlements but have since escalated into a much broader expression of xenophobia, often in response to Palestinian violence.
Last week, two Palestinians burst into a Jerusalem synagogue with meat cleavers and a gun and killed four rabbis at prayer, as well as a policeman who came to their aid, in the deadliest violence the city has seen in six years.
The attack came after months of unrest in the annexed eastern sector of the city, where there have been almost daily battles between police and stone throwers, which has spread across the West Bank and to Arab communities inside Israel.

Load more