Simon Ateba
Governorship aspirants in Lagos State, western Nigeria, on the platform of the All Progressives Congress, APC, have  not ganged up against any of the contestants ahead of the 4 December primary election, an aspirant and Speaker of the State House of Assembly, Adeyemi Ikuforiji, has said.
Ikuforiji, who met with journalists on Sunday, dismissed media reports that a meeting held last week by the APC aspirants in Lagos was a gang up against Akinwunmi Ambode, an APC governorship aspirant.
Two newspapers had reported on Sunday that an attempt by other APC aspirants to gang up against Ambode had failed.
The newspapers reported that the aspirants had convened a meeting at a hotel in Maryland, Lagos at the weekend with a view to picking one of them as a consensus candidate to face Ambode.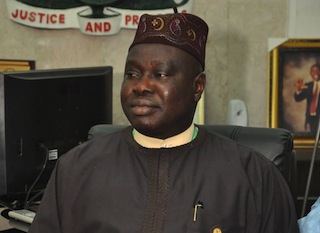 The newspapers also said that the meeting was chaired by Muiz Banire, an APC chieftain. But Ikuforiji described the media reports as fabricated and said Banire was not even at the meeting.
"Two weeks ago when we had a meeting with our national leader, Asiwaju Bola Ahmed Tinubu, he implored us to remain friends in the interest of the party.
"Two weeks after, people are worried about the situation of things. We still do not have the directives and modalities for the party's primaries in December. And we felt that at this particular point in time, we should be patriotic, we should all come together in the interest of the party because if care is not taken, we may play into the hands of our political enemies, whom we know don't really wish this state or the nation well.
"We may find ourselves in a situation whereby we will not be able to present any candidate, or someone may go to court to invalidate our primaries. Those were the things that we discussed and when the meeting was called, notice went to all party aspirants," Ikuforiji said in an interview with journalists.
He said aspirants who could not make it to the meeting apologised. Six aspirants attended the meeting, Ikuforiji said.
"We were six aspirants at the meeting and we tried to find ways of how we could move our party forward and avoid playing into the hands of the enemy.
"We do not want a situation whereby our party will not be able to present a candidate in the coming election for the seat of a governor in Lagos and we don't want a situation whereby someone will be able to challenge the process that led to the emergence of our candidate.
"That was why we came together. We did not discuss about someone stepping down for anybody. That was not discussed," Ikuforiji said.
At the moment, Ikuforiji said, only two options can be adopted by the APC.
"Only two options at this point in time appear visible. One is direct primary, where all APC card carrying members participate in the process leading to the emergence of the candidate and the only other option is a concensus candidate. That was all we discussed and we agreed to meet again very soon and be in touch with our leaders and the national secretariat.
"Nobody, except aspirants were at the meeting and only six aspirants showed up. I swear to God, I have not seen Dr. Muiz Banire in weeks. For someone to have the guts to write that Dr. Banire was at that meeting or chaired that meeting is sheer mischief.
"The story was published in The Nation and Mirror newspapers. And it was word for word. The stories from the two papers seemed to have come exactly from the same table. It was written word for word."
Load more