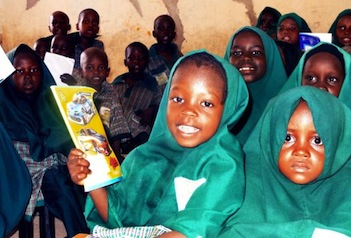 Borno state government as part of inducements to encourage children return to schools, will give them free uniforms and meals. Dr Mohammed Dongel, Chairman of the State Committee on the Resuscitation of Primary School Education, made this known as he the appealed to parents to allow their children come to school, despite the Boko Haram threats.
Dongel said the State Government had made adequate provision for the security of teachers and pupils in schools.
"I want to assure parents that government has made adequate security provisions in all schools for the protection of teachers and pupils. Parents should endeavour to send their children to school," Dongel said.
He said that the state government had plans to commence the distribution of uniform free of charge to all pupils in public schools next week.
"Gov. Kashim Shettima is expected to flag off distribution of uniforms free to all pupils in public schools next week. He will also flag off provision of free daily meals in all public primary schools next week," Dongel said.
Dongel said state government had also procured instructional machines for easy teaching and learning in schools in the state.
"We are trying to introduce e-learning in primary schools to transform our education system into world class'', he said.
Dongel added that government had also introduced new security measures in schools to ensure safe environment for teaching and learning.
Public schools, closed on March 14 due to deadly attacks by suspected Boko Haram insurgents. They were re-opened on Nov. 17.
The attacks climaxed with the kidnapping of almost 276 school girls in Chibok.

Load more