Eromosele Ebhomele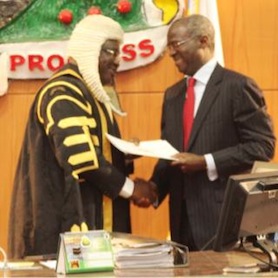 Speaker of the Lagos State House of Assembly, Adeyemi Ikuforiji, on Monday maintained that most residents of the state still live in abject poverty.
The Speaker, was reacting after the state governor, Babatunde Fashola, presented his last budget to the House as governor, said with this fact in mind, the lawmakers would thoroughly scrutinise the budget as well as effectively handle the process of passing the budget.
Fashola had presented a budget of N489.690 billion for the 2015 fiscal year.
The budget, which is same figure as that for 2014, shows a Capital to Recurrent ratio of 51:49.
A further breakdown shows that while General Public Service has N107.690 billion at 22.0 percent, Public Order & Safety has N15.547 billion at 3.2 percent, Economic Affairs got N146.306 billion at 29.9 percent, Environmental Protection has N34.953 at 7.1 percent, Housing & Community Amenities has N49.033 billion at 10.0 percent, Health gets N44.617 billion at 9.1 percent, Recreation, Culture & Religion gets N3.118 billion at 0.6 percent, Education gets N82.114 billion at 16.8 percent, and Social Protection gets N1.589 billion at 0.3 percent. Planning Reserve gets N2.260 at 0.5 percent, Contingency gets N2.448 at 0.5 percent.
Fashola praised his government for its consistency in meeting the yearnings and expectations of the people since it began in 2007 adding that the state had effectively gone too far for those who do not know much about governance to be given the mantle of leading.
He therefore urged the people of the state to ensure that they bring the right person to replace him rather than one negatively change the fortunes of the state.
While replying, Ikuforiji, who supported the governor's advice that only the right person should become his successor, said: "your Excellency, ladies and gentlemen, as the head of an institution that is closest to the grassroots; I must confess, some of our people still live in abject poverty.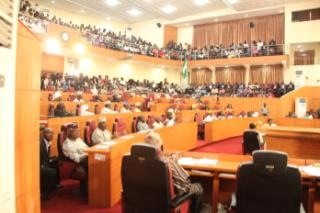 "In treating this budget, we will not forget that we are trustees for the people; a lot has been done in the area of job creation and economic empowerment of Lagosians, but there is a dire need to create more opportunities for our people; more jobs will lead to greater economic growth."
Ikuforiji, who went religious while plenary lasted, prayed to be that qualified person that Governor Fashola wanted as his successor.
The Speaker went further: "our dear Governor, we are highly expectant that this budget proposal will address some important issues like the completion of ongoing projects, debt reduction, affordable housing, pension allowance.
"Healthcare that is good enough to eliminate infant mortality, transportation, gender empowerment, sustainable alternative energy, science and technology, the impact of climate change
"Food security, entrepreneurship and innovative high-wage job creation, improved security, uplifting the physically challenged, sports, poverty, elimination and most importantly, education.
"When this 2015 Appropriation Bill eventually becomes law, we all must remain fiscally responsible; our economic action plan should be coupled with strong, sound and consistent fiscal management.
"We must not be ignorant of the fact that Nigeria is experiencing a sharp fall in oil prices, a 29 per cent drop from June, which has triggered an OPEC emergency meeting; we should also not forget the unstable nature of the Naira with its attendant macro and micro economic shocks.
"Beyond our municipality, China's economic growth has slowed; thereby affecting the quantity of oil being purchased from Nigeria; Europe's economy has stalled, and is likely to experience deflation; the United States and Canada who used to be big buyers no longer need to buy our oil – which ordinarily should be a good opportunity to diversify our oil-based economy.
"Some may say this has always been the pattern of oil prices, but bear in mind; it creates economic instability and distorts actual budget performance, especially for economies tied to the movement of oil prices.
"As legislatures, we recognise that some of these economic externalities greatly affect socio-economic growth and are sharp enough to influence budget re-prioritization; a good example is the Ebola scourge or other 'Acts of God'.
"Mr. Governor, we commend your administration for the precision with which your officials handled the Ebola Virus Disease; you made an epidemic look like a routine containment; the performance of your team is a reminder of the fact that well-trained individuals become competent personnel; competent personnel build enduring institutions, enduring institutions become a leader's legacy."
Load more