Kazeem Ugbodaga
Lagos State Governor, Babatunde Fashola has advocated high level of hygienic practices to ensure complete eradication of the deadly Wild Polio Virus, WPV, in the country.
Fashola, who spoke at the 10 Degrees Event Centre, Oregun, Lagos, southwest Nigeria at the formal launch of the Anti-Polio animated comic movie: The Polio, written by Olugbenga Kuye, stated that though there had been no cases of re-infection of WPV in the last five years, samples of the virus had been seen in water bodies and soil tests indicating that the hygiene level was still low.
He expressed regrets that such unsanitary habits as indiscriminate dumping of refuse in open places, open urination and defecation were still common in many communities across the nation, pointing out that this must stop if the country genuinely intended to put an end to the virus.
Fashola urged the people to do away with all the myths attached to the disease, adding that once they immunize their children against the disease, they would be able to fight the virus when it enters their body.
The governor, who said there had been no reported case of WPV in Lagos, attributed it to the fact that the state's health workers had taken the challenge headlong while the government remained committed to ensuring that the situation remained as it was.
He, however, maintained that as long as other parts of the country still had the virus and they could move from their location to Lagos, residents remained at the risk of getting re-infected, saying that although WPV had a vaccine, it was still a problem to overcome because people had refused to accept "the answer which science has provided." Recalling the successful containment of the Ebola Virus in the state and the enthusiasm demonstrated by Lagosians towards the exercise, Fashola said, "Today, Ebola has no vaccine. We rose together simply because we all were afraid of Ebola. We did the right thing and we curtained Ebola which had no vaccine and cure.
"There is no basis for a disease that already has a vaccine to continue to trouble us. The answer is that we take it for granted because we are not afraid. But even if we are not afraid, we can see how difficult it could be for the polio survivors to get on with life. We can see that they can play football, struggle to go to work but is this the way we all want to be? They have showed themselves as the mistake that we had made earlier."
Fashola noted that protection of life does not start and end with security alone, stating that "the most important side of it is to recognize that human beings are the most important resource that any civilization can have.
"This was the reason the Lagos State government committed to a safe motherhood project and built 10 Maternal and Child Care health centres across the state, each with 100 bed spaces and two theatres."
Fashola disclosed that very soon, residents of Lagos would begin to see changes as the state is currently working with the Immigration offices, shopping malls where there were facilities for people with disability so that they do not queue with people who are otherwise not challenged.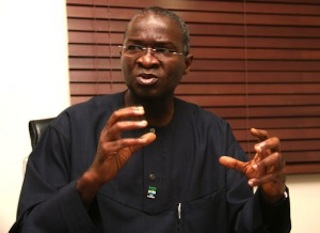 He added that government was also working on regulations to ensure that people did not abuse those facilities as the government would be starting with its own parking spaces at Alausa Secretariat where it had dedicated parking space for people with disability.
The governor urged Nigerians not to underrate the risks that were inherent in the spread of infectious diseases, stressing that infectious diseases had been with mankind before many members of this generation came into being and would remain on earth long after many had gone.
"The risk of infectious diseases continues to be heightened by the increasingly 'borderless' world that we live. It is now possible, unlike 60 years ago, to travel from Africa to Europe and back on the same day. That is how the borders are shrinking. It is possible to order goods and they are delivered in packages in a couple of hours. But in the past, this took months.
"People are migrating rapidly and unless very high hygienic standard is maintained, it is very easy to spread these infectious diseases. One thing that has happened was that whenever such disease broke out, scientists and health workers have been very courageous and determined to find solution to them. "We have had several diseases-Cholera, common cold, conjunctivitis, HIV, Bird Flu and just last week, foot and mouth disease broke out in Europe. It will never end. But our scientists have either presented us with cure in form of drugs or prevention in form of immunization.
Virus like the Wild polio virus still does not have a cure. But it can be prevented through immunization," he added.
Special Adviser to the Governor on Public Health, Dr Yewande Adeshina described polio vaccines as very safe and well tolerated in children and enjoined political leaders to ensure that children were administered with the vaccines during the scheduled period for the campaigns, adding that Lagos State had attained and surpassed the 80 percent coverage level on Polio Immunization since 2013.
Chairman of the event and National Chairman of the Nigeria National Polio Plus Committee, Dr Tunji Funsho, appealed to parents and guardians to ensure that whenever immunization rounds were going on, they should insist that their children and wards were immunized and should not be worried about whether a child had taken one before, "because it is never too much."

Load more