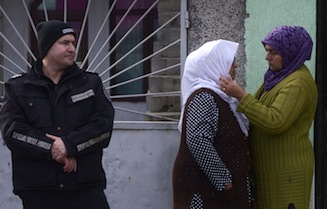 Bulgarian authorities raided a mosque in the south of the country Tuesday as part of a probe into a local Muslim leader for terrorism and incitement to war.
Television footage showed police detaining Ahmed Mussa Ahmed, a Roma imam from the southern town of Pazardzhik, who has already been repeatedly condemned for spreading radical ideology.
Public BNR radio said at least four other members of Pazardzhik's Muslim community were also arrested.
Bulgarian state prosecutors said they had launched a joint operation with the interior ministry and the agency for national security "as part of a pre-trial investigation into terrorism and incitement to war."
They did not comment on possible arrests but said 40 addresses in the southern towns of Pazardzhik, Plovdiv, Smolyan, Asenovgrad and Haskovo had been searched.
Ahmed was sentenced in a high-profile trial in March to one year in prison for promoting radical ideology in mosques, conferences and cafes between March 2008 and October 2010.
He also received a three-year term for violating his probation on a previous sentence for spreading radical Islam, but remained free pending appeal.
Media reports said the new probe was based on pictures and videos posted on Facebook showing members of the tight-knit Roma Muslim community posing in T-shirts and baseball caps sporting symbols of the Islamic State group.
The videos, which have since been taken down, reportedly praised the Islamic State jihadists in Syria and urged an Islamic war there.
A majority Christian Orthodox country, Bulgaria also has a large Muslim population, including ethnic Turks, Muslim Roma and Pomaks, whose Christian ancestors were forced to convert to Islam during the country's Ottoman domination.
Load more