Cyriacus Izuekwe
A 24-year-old man arrested for burglary has said that he steals only on Sundays by breaking into his neighbours' homes after they had gone to their various churches in Lagos State, western Nigeria.
Kelechi Ikechi, from Abia State, was arrested on Sunday after he broke into his neighbour's flat to steal  in Ejigbo area of Lagos.
Ikechi allegedly confessed to the police that he broke into Peter Ibeh's house at Afolabi Obe Street, Ejigbo to steal.
But while carrying out the act, a trap was set for him and he was locked from outside and eventually caught.
Ikechi said he resorted to stealing from his neighbours after he lost his factory job.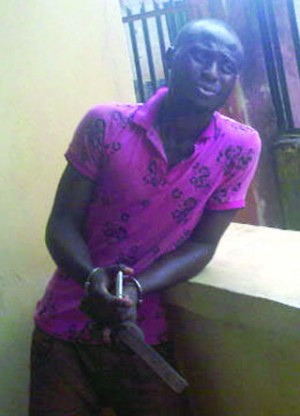 He said he chose Sundays to steal because it was convenient and that his neighbours spend much time at church services.
The complainant, Ibeh, said that every Sunday his house was burgled when he and members of his family are in church.
He said this caused serious rift within the family members and he decided to find the root cause.
Ibeh said on the day Ikechi was caught, he hid one of his aides inside their flat and went to church with other members of the family.
He said it paid off when Ikechi broke in and his aide locked him from outside and raised the alarm which attracted other neigbours.
Ikechi was arrested and handed over to the police at Ejigbo Division.
After investigation he was charged him before Isolo Magistrates' court with burglary.
He pleaded not guilty.
The court granted him bail in the sum of N100,000 with one surety in like sum.
He was remanded in prison custody pending when he will fulfil his bail condition.
The matter was adjourned till 1 December, 2014.

Load more