Abiodun Onafuye/Abeokuta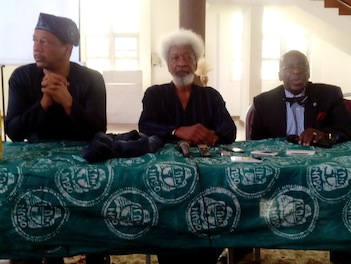 Prof. Wole Soyinka revealed today that he lived with prostrate cancer, but was recently cured. The Noble laureate made the revelation at a press conference tagged: "Beyond Ebola and Beyond Reign of the Silent Killer" held at the June 12 Cultural Centre, Kuto, Abeokuta, Ogun state capital.
The octogenarian, who clocked 80 years last August, was flanked during the press conference by his son, who is also the state Commissioner for Health, Dr Olaokun Soyinka and the President/Founder of the African Cancer Centre, Prof Femi Williams.
He stated that he lived with the killer disease for over ten months while undergoing treatment. "I discovered that I was afflicted with prostrate cancer in December last year and was finally cured of the killer disease on October 28 this year," Soyinka revealed.
He stressed that his public disclosure of being afflicted with cancer was borne out of the moral obligation he felt he owed the society, especially as a member of the African Cancer Centre.
The Nobel Laureate added that he had to make his experience public in order to demystify the killer disease, which he assured was curable.
Soyinka further noted that he decided to make the revelation to encourage others suffering from the disease, as well as to compel those in charge of the health sector to take the treatment of the disease more seriously.
"In November, last year, I discovered that I had cancer and I have been treating it. I finished treatment on October 28 and that's why I've come out to tell you this. Many people start looking at you as if you are a ghost; No! It's not a death sentence and it is curable. I have undergone the treatment and I even have a certificate and medal to show for it, but I don't normally wear decorations.
"I want to use myself to encourage others to take whatever test available to them in our limited circumstances here and more importantly to encourage those who are in charge of our health to take the cancer menace seriously," Soyinka advised.
He therefore advised Nigerians, particularly the women folk to check and test for cancer once they discovered any unusual lump in any part of their bodies so as to tackle it before it is too late to manage.
According to him, "There are many ways of managing cancer even through diet. I have had to drink a lot of water and as many of you may know, water and I are not really friends," he said.
Soyinka, who also disclosed that certain amount of money had been earmarked for cancer research, urged the Federal Government to release the funds, "we should have a diagnostic centre where people can go to be tested, treated and cured."
Also speaking at the press conference, the President/Founder of the African Cancer Centre, Prof. Femi Williams lamented the dearth of qualified oncologists in Nigeria.
Williams identified cancer as a major disease responsible for capital flight from Nigeria.
"There is not a single Nigerian qualified as a medical oncologist in this country and yet we have 220 qualified oncologists of Nigerian descent in Diaspora. Most of these specialists are willing to come back home and others have interest in the African Cancer Centre," Williams said.
The ACC boss accused the former Minister for Health, Prof. Onyebuchi Chukwu of withholding funds appropriated for the treatment of cancer in the 2011 budget.
Williams however vowed that he would continue to demand the release of the fund until "we get there".
In his contribution, the State Commissioner for Health, Dr Olaokun Soyinka explained that the state was working towards building its own cancer institute.
He appealed to the Federal Government to ensure that "we build our own cancer capabilities," expressing regrets that Nigerian oncologists in the Diaspora had not been given the opportunity to exhibit their expertise at home while other countries have taken advantage of them.
Prof. Femi Soyinka, the younger brother of the Nobel laureate also attended the event.
Load more