Okafor Ofiebor/Port Harcourt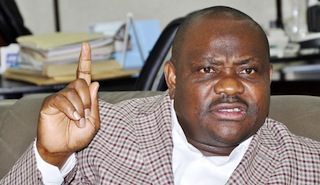 The South-South Zone of the Peoples Democratic Party, PDP, governorship screening committee has disqualified Prof Don Baridam, Tonye Princewill and 14 other aspirants among the 16 aggrieved aspirants protesting against Nyesom Wike, who has been cleared for governorship race.
Also disqualified are Becks Dagago Jack, Gabriel Pidomson, Dumo Lulu Briggs, Sampson Ngerighara, Nimi Walson Jack. The aspirants had protested to national headquarters of the party accusing Wike, a former Minister of State for Education of hijacking the party structure in the state.
The aspirants also protested against Patience Jonathan's imposition of Wike on the party. Those not cleared paid over 11 million naira as expression of intent form.
The news of the disqualification of the aspirants makes Wike the party's favourite to become the governorship candidate, as those cleared along with him will give him very feeble contest during the party primaries on 2 December.
Shortly after his disqualification, Princewill confirmed the actions of the PDP screening committee via a Facebook post. "Unconfirmed reports have it that the South South screening committee has obeyed Wike's instruction and disqualified me from contesting for Governor of Rivers state on the platform of PDP.
He stated that: "He said the reason given is that reason I am not a PDP member."
He described the reason as madness. "I am not a PDP member after I raised hundreds of millions for the party, donated a multi-million naira media center to the national headquarters and participated in all affairs of the party. Not a member but you collected millions for a PDP form. If this decision is true, this marks a new low in our state's politics. Will confirm for sure later today, but our sources are pretty reliable."
He then wrote that the following were the options left to him. "To Appeal, quit politics altogether, stay in the PDP even though they say I am not one of them or go to another party (not APC) and run".
He said while he ponders on these four options, he restated that his commitment to the Goodluck Jonathan re-election is still strong. PDP ticket or not.
Princewill assured his loyalists that if they decide that he should not run, all previous contributions for his campaign will be returned in full to all the many who donated and they can count on that.
According to Princewill, in addition to disqualifying him, Nimi Walson Jack, Bekinbo Dagogo Jack and Dumo Lulu Briggs were also disqualified, just to mention a few. "The writing is on the wall. This is a sad day for internal democracy. What are they afraid of? I ask again; Is PDP in Rivers state not really working for APC?"
Meanwhile, the coordinator of Mainstream Coalition, Prof Israel Owate has dismissed accusations that the disqualification of the aspirants were through the manipulations of Wike who is desperate to be governor and take over from Governor Amaechi, another Ikwerre.
Beckinbo Dagogo Jack has vowed to appeal against his disqualification to the national headquarters of the party.

Load more