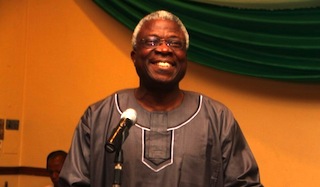 Professor Niyi Osundare, poet, essayist, dramatist, academic and public affairs commentator has won this year's Nigerian National Order of Merit (NNOM) award.
President Goodluck Jonathan will decorate Osundare with the award on 4 December in Abuja. While announcing the award, Professor Etim Essien, the chair of the council of NNOM described Osundare as an outstanding scholar and researcher whose "service to humanity in the field of humanities has successfully carved his name in gold in the hearts of people of this nation and many nations of the world".
Born in Ikere Ekiti in 1947, Osundare attended universities in Ibadan, England and Canada. He is now a distinguished professor of English at the University of New Orleans, USA.
He has won many awards for his poetry including the prestigious NOMA. Osundare's poetry collections include "Song of the Marketplace", "Village Voices", "The Eye of the Earth", "Moonsongs", "Waiting Laughters", "Midlife", and "Tender Moments".
Load more