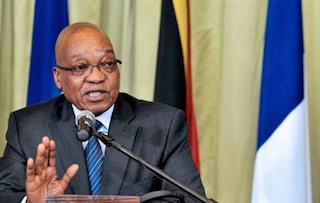 South African retailer Woolworths on Tuesday secured a court order banning pro-Palestine activists from protesting in its shops against goods from Israel.
The high-end supermarket took the case to a court after a series of protests by activists from Boycott, Divestment and Sanction against Israel who stormed into stores, brandishing placards and chanting slogans.
Woolworths said the ruling offered "relief" and enforced its rights to "trade free of threats and intimidation".
Last month, a pig's head was dumped in a kosher section of a Woolworths store in Cape Town.
Criticism of Israel is not new in South Africa, and the Jewish state has previously expressed its outrage at comparisons of its policies towards Palestinians with the racist apartheid system.
But Israel's 50-day offensive in Gaza this summer had sparked large rallies in Africa's second biggest economy, with tens of thousands of people joining marches in major cities.
Woolworths says it currently imports figs, pomegranates and pretzels from Israel, calling the campaign against Israeli goods misdirected.
The protest group said in a statement it would "tone down its in-store protest actions" but vowed to intensify its #BoycottWoolworths campaign in social media.
Both parties are also required by the court to hold a meeting before December 10 to iron out their differences.
The activist group is also lobbying the government to stop trade with Israel, citing atrocities against Palestine.
Load more