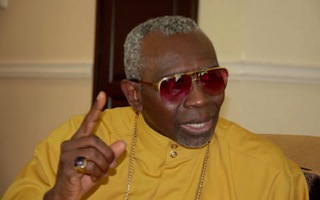 The President of the Christian Association of Nigeria (CAN), Pastor Ayo Oritsejafor, on Monday urged the Sultan of Sokoto, Alhaji Sa'ad Abubakar, to write a letter to Boko Haram to stop their attacks just as he did to the Islamic State of Iraq and Syria (ISIS).
Oritsejafor made the call in Abuja at a 2-day roundtable with Senior Special Assistants on Religious Affairs from the 36 states of the federation and the Federal Capital Territory (FCT).
"His Eminence said he wrote a letter to ISIS, I have to truly congratulate you for that because that was a very good move. I didn't know about it until today and I am so glad it happened. But I want to appeal that you also write to Boko Haram because Boko Haram is worst than ISIS.
"They have killed more people than ISIS, they have caused more atrocities than ISIS; they need to be written to as well, it is very important it will help.
"I have made an appeal several times that there are some of our leaders who must come together, religious, political and traditional. They must come and discuss.''
He also enjoined religious clerics, particularly those in the 'good book' of the militant sect to reach out to the leadership of the sect so that the real Islam could be presented to them instead of allowing them to continue to be misrepresenting Islam.
According to him, the militant sect will not listen to him, he will have joined the clerics in preaching peace to members of the terror group and the need to practice real Islam.
"I have heard and I may be wrong, one thing you will learn about me is that I'm usually not politically correct, but. I tell you the way I see it.
"But I have been told that the Boko Haram, to a very large extent, are very vast in scriptures. What scriptures do they use? There are still religious clerics that they respect.
"If these people are not presenting the right thing and are misrepresenting Islam, which I agree it is the case so to a very large extent, we agree that our brothers to reach them so that the real Islam can be presented to them. They won't listen to me, in fact they will kill me faster than anything else, oh yes that is the truth and I am aware of that."
He frowned at the inability of stakeholders to implement resolutions of the past inter-religious meetings.
The CAN president said that greater peace and harmony would have been achieved among the various religions in the country if lip-service had not been paid to the various resolutions of such meetings.
"But if we would come together, there must be sincerity, equality, fear of God and genuine love for one another. The problem with gatherings like this is that if we are not careful it becomes an occasion for good photographs, we shake hands, we talk very nicely, we are all politically correct. We don't want to offend each other.
Related News
"Please let's offend each other, we need to. Because if we don't offend each other, we will not tell each other the truth and that is part of Nigeria's problem.
"If you come out to say certain things there are those who feel you are rocking the boat but God is in the boat, the boat will not sink. Let us talk to each other, let's tell the truth to each other, let's not sweep it under the carpet.
"When we finish the opening ceremony and you go into the close door session, lay all the cards in the table."
While querying why a church in the North in the last 30 years have not been able to get Certificate of Occupancy (C of O) for land, he said that any mosque or church should be able to get C of O anywhere in the country.
"Please, permit me to say this, why should a church in the north for the last 30 years not be able to get C of O? Any Mosque anywhere in Nigeria should be able to get a C of O. Why is it that people want to build a place of worship, they are not given a land?
"Those of you who represent these governors, I like what His Eminence said, tell your governors some of these things and if they refused, resign. Hopefully, people will ask why you are resigning. Because we must create a level-playing ground for everybody, we must deal with each other as equals, very important, very vital. No matter your religion, in any state you come from, if you qualified for a position you should get it."
In his contribution, the Sultan said people must tell their leaders the truth to promote peace and harmony in the country.
According to him, there is no problem between Christianity and Islam.
He, however, acknowledged that there were problems between Christians and Muslims in the country due to lack of education on the two religions. "If we don't tell our leaders the truth, they won't know the problems. If we hear something here and go back to do something different, then we have failed.
"We must tell our leaders the right thing and not what they want to hear. Muslims and Christians at all levels must sit together and discuss and we must implement what we discuss. We must work with our Holy Scriptures."
According to the Sultan, he has written a letter to those pushing for the Islamic State of Iraq and Syria (ISIS) on why their action is against Islam, stressing that those carrying out bombings in Nigeria are not doing it for God.
He warned that the bombings and attacks might not end in the North-East if the right things were not done now.