Ayorinde Oluokun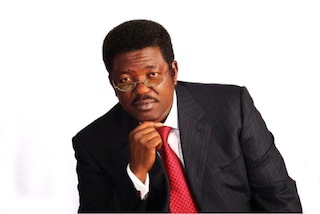 The Ibom True Leadership Forum (ITLF), a leadership advocacy group in Akwa Ibom state has endorsed the aspiration a former deputy governor of the state, Engineer Patrick Ekpotu, to become the next governor of the state.
The group, in a statement signed by it's chairman, Dr. Uwem Effiong, stated that the decision to endorse Ekpotu from the motley crowd of governorship aspirants in the state, stems from the beauty of his programme for the state which they consider to be well thought-out, honest, people-centered and that which inspires hope as it is essentially hinged on an implementable blueprint that is designed to be driven by fiscal discipline, prudence and transparency, which are key elements of true democracy and credible leadership.
"After a careful analysis of what all the governorship aspirants in the state are promising to do as governors, should they be given the mandate by the people of Akwa Ibom, we arrived at the conclusion that while all the aspirants are legitimately qualified to aspire to become the next governor of the state, Engineer Ekpotu's proramme is without doubt, the best for the state, based on the following indices: priority, usefulness to the people, believability, implementability and preciseness.
"He is the only aspirant that has promised to subject the state government's accounts and expenditure under his leadership to public scrutiny by ensuring that his government engages the services of internationally reputed auditing firms to audit his government as a way of entrenching transparency and governance that will meet international best practices," the statement revealed.
The group also stated that "while all the aspirants are saying they would industrialize the state and take the uncommon transformation of the state in the area of infrastructure under the current government of Governor Godswill Akpabio, to the next level, none of them apart from Ekpotu has told us how they plan to improve the revenue of the state beyond the remarkable allocation that comes to the state from the federation account.
"The former deputy governor's blueprint states categorically how he intends to transform the economy of the state and improve the Internally Generated Revenue (IGR) through investment in agriculture and special focus on palm oil production, with a potential of generating over N20 billion a month for the state at optimum implementation," the statement said.
ITLF added that the chemical engineer who is seeking to fly the flag of his party, the Peoples Democratic Party (PDP), in 2015 governorship election, has also promised to unite the various interest groups that are currently feuding in the state in the interest of peace and sustainable development.

Load more