Okafor Ofiebor/Port Harcourt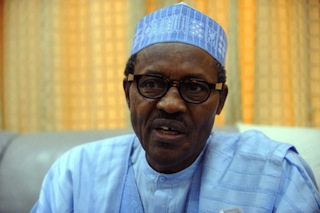 General Muhammadu Buhari (rtd) a former Head of State and a frontline presidential aspirant of the All Progressives Congress (APC) has denied being an Islamic fundamentalist and has declared that nobody can turn Nigeria into either a Christian or an Islamic state.
Buhari made the clarification during an interactive session with APC delegates in Port Harcourt where he came to solicit their vote for the forthcoming APC convention where the presidential candidate will be decided on 10 December.
Governor of Rivers state, Rotimi Amaechi corroborated Buhari's stance. He debunked rumours by political opponents that APC is an Islamic party, noting that, the party has no intentions to Islamize the country if it wins next year's presidential election.
Amaechi also at that occasion exonerated Buhari, stating that the APC is a party for progressives who meant well for Nigerians and the overall development of Nigeria.
"APC is not an Islamic Party. This is so because, when General Muhammad Buhari (rtd) was Nigeria's Head of State as a young man, he did not Islamize Nigeria, and to do that he needs the endorsement of the National Assembly to debate over the issue. Buhari cannot Islamize Nigeria. Don't be perturbed by what our detractors are saying," Amaechi said on Tuesday during an interactive session with students at the Ignatius Ajuru University of Education (UOE) in Port Harcourt.
"I am an ardent Catholic Christian and I converse with God a lot. It is not true that APC will Islamize Nigeria. The National Chairman of APC, Mr. John Oyegun is a Christian. Bola Tinubu's wife is also a Christian, Buhari's cook is a Christian from Igboland, his driver is also a Christian. As a father to all of those Christians, Buhari gives Sunday as a free day to these his domestic staff to go to Church and worship God. So, no one can believe what our detractors are saying about Buhari and the APC," Amaechi said.
"The political economy of Rivers state has been stagnated by the Presidency and their detractors. They are all thieves who don't mean well for our state. They caused mayhem in the last administration. We assumed office and chased them away. Now, as my tenure draws to an end, I can see, they have brought them back. You and I have a responsibility to stop them from repeating what they did before. We will not allow them again to steal our funds. Imagine, the missing $20 billion that was stolen. We expect that our President would have sacked all those involved in the saga. But, he only threatened to sack the former CBN Governor, Sanusi Lamido Sanusi, who was only doing his legitimate duty at the time. Nigerians must have a rethink," Amaechi said.
On the Rivers governorship race and the upcoming 2015 general elections, Governor Amaechi said the plan by the PDP to usher in another Ikwerre governor in 2015 was unreasonable, not feasible and will fail.
He explained that, "I am an Ikwerre man who has ruled for eight years and I am surprised to hear that the PDP is jostling to bring another Ikwerre Governor in 2015. That man only believes that votes can be bought with money.
Amaechi alleged the governorship aspirant of PDP is an Ogboni man and not a christian. He further alleged one of the PDP aspirants was given N3 billion to fix the internal roads at the new Adokiye Amiesimaka Stadium in the Greater Port Harcourt City, he embezzled all the funds without doing any road. He further claimed that the aspirant was also given 14 schools to build and furnish in Obio/Akpor Local Government Area. "A thief can't be a governor in Rivers state."
As part of his visit, Governor Amaechi sensitized the students and members of the university community on the need to register as eligible voters in the upcoming 2015 general elections.
"Rivers people and residents must register as eligible voters to choose a credible governor. All of us must exercise our franchise. We must do that for the sake of the future. Public funds are not for private pockets. They are meant for the people", Amaechi said.
He urged those 18 years and above to register. He told them that as soon as INEC prepares to commence the issuance of voters' card and registration of eligible voters they must obtain their own as that is the only way to stop detractors in 2015. "You must stay at the polling units and count the votes yourselves before you declare them on the social media and as you do that, you can stop them from rigging the election," Amaechi said.
Reviewing his gallant strides in the state, Governor Amaechi said his administration has created employment opportunities for Rivers people, including the recruitment of 13,200 teachers, 5,000 workers employed by Risonpalm and thousands employed by the Banana Farm in Tai Local Government Area, the Songhai Farm as well as the Port Harcourt Mall which recently employed up to 600 workers.

Load more