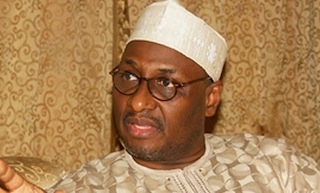 Alhaji Adamu Waziri, the Chairman of the PDP-reconstituted panel for Lagos State Ward Congresses on Tuesday described the conduct of the congress as a huge success.
NAN reports that the National Working Committee of the party had earlier announced the cancellation of the congress held on 1 November and ordered a fresh one following complaints of irregularities.
The fresh congress to choose delegates for the party's primaries was, however marred by chaos on Monday which delayed its conduct in many of the 20 local government areas and was eventually concluded on Tuesday.
Addressing newsmen at the party's secretariat in Lagos, Waziri, a former Minister of Police Affairs, said that the panel recorded 95 per cent sucess at the congress.
"A total of 735 delegates for intra-party secondary election emerged from the just concluded congress.
"We have attained almost 95 per cent success. Congresses did not hold in one or two places. We cancelled about five per cent.
"Despite the hiccups at the beginning, we are happy it was sucessful" Waziri said.
He said some of the delegates emerged by consensus and mutual agreements in some areas while others areas voted for their delegates.
Waziri reiterated the need for due adherence to the process of internal democracy by all political parties in the country.
"Election is not a do or die affair. We had to come to conduct this congress because the PDP guidelines got breached in the first congress held.
"We want to ensure that our internal democratic structure is preserved. The PDP structure is such that members derive legitimacy by registering in their wards and given freeedom to seek elections or vote in elections," he said.
He said the leadership of tyhe party in the state would release the full list of all delegates elected to all aspirants.
Other members of the panel are Mr Cosmas Agagbo, Vincent Okpaleke and Obafemi Fabgola, who served as Secretary.
Also speaking the Lagos State Chairman of the PDP Mr Tunji Shelle said that the result of the congress would lead to a rancour free primaries for the party.
"This will in turn lead the party to victory in the 2015 governorship polls in the state." Shelle said.
Load more