Former President Olusegun Obasanjo has taken another swipe at President Goodluck Jonathan, describing some of his actions as evil.
Obasanjo who spoke at a book launch in honour of the pioneer Chairman of the Independent Corrupt Practices Commission, ICPC, Mustapha Akanbi, in Abuja on Wednesday, declared that Nigerian democracy remained at risk due to the actions of  Jonathan, Premium Times reports.
Obasanjo, who was the Chairman of the occasion, said Jonathan should stop encouraging "verbal violence which may not physically hurt but has ways of degenerating into physical violence."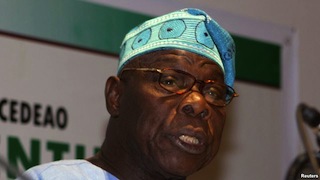 According to Obasanjo, the greatest indictment against any administration is to be seen trying to destroy opposition of all sorts which invariably means destroying democracy.
"Management of democracy without resorting to brute force and dictatorial tendencies must be cultivated," Obasanjo stated.
"As a leader, you must not deliberately do evil or condone evil. You should know that you will one day give account to God, you may cover up here, but before God, there is no cover up," he added.
Obasanjo also spoke at lenght on the President's handling of the Boko Haram insurgency, corruption, the economy and youth unemployment.
On insecurity, Obasanjo said Boko Haram is not out to "frustrate anyone's political efforts" and lamented that it took Jonathan the years to fully understand the menace.
On corruption,  Obasanjo said, "when the head is rotten, the whole body is useless."
Related News
On the economy, he said Nigeria would continue to sink deeper and that what Nigerians are told about the state of the economy "is not truly what the economy is."
"The economy is in doldrums, if not in reverse," he said.
Obasanjo's latest attack on President Jonathan is coming seven days after he rated President Jonathan's performance as below average.
Addressing book writers in Abeokuta last weekend as part of activities marking the Ake Arts and Book Festival, Obasanjo said in response to a question on Jonathan's performance, "I rate this current administration below average."
Obasanjo also rejected accusations that he assisted Jonathan to become president, saying he deserved credit for helping an individual from a minority tribe to become Nigeria's President.
"Rather than take blame for bringing Jonathan to power, I should be taking credit," he added.
Responding to Obasanjo's criticisms on Sunday, the Senior Special Assistant to the President on Public Affairs, Doyin Okupe, condemned Obasanjo's rating as untrue and misleading.
Okupe said Obasanjo's rating was at variance "with the facts on the ground."
Okupe said President Jonathan had performed so well that "in terms of performance and achievements, no administration since 1960 when Nigeria gained independence from Britain, has done as much as that of President Jonathan."