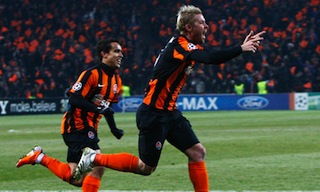 Shakhtar Donetsk lost a game but reached the Champions League knockout stage giving an emotional boost to war-torn Ukraine, highlighted on Thursday by manager Mircea Lucescu.
The Ukrainian champions cannot play their European home games in Donetsk because of the conflict between pro-Russian rebels and government forces that has ravaged the southeastern city.
Shakhtar seemed to be barely functioning in their 1-0 defeat to Athletic Bilbao on Tuesday night but had already qualified before the game started. Group H leaders FC Porto beat BATE Borisov of Belarus 3-0 meaning the Ukrainians had second place.
"I'm upset with our performance but happy that we've make it into the knockout stage," Lucescu said.
"The performance in the Champions League is our prestige, our image. And we're all set to keep up our prestige, our image really high."
The war in southeast Ukraine forced the team to move to Kiev for training and play their home matches in Lviv, about 1,000 kilometres (620 miles) away from Donetsk.
Their base in the Donetsk suburbs has been seriously damaged by shelling. Their once glittering Donbass Arena, which staged matches for the 2012 European Championship, has also been hit.
The squad, which includes 13 Brazilians, has taken the war fallout to heart. And there is little chance they will be able to return home soon.
"I grieve deeply over the current situation in Donbass," Shakhtar's Brazilian midfielder Taison said.
"The people live in constant fear of dying. I love Ukraine and I love Donetsk so much! I have plenty of friends there. And I pray God for the end of this conflict every single day," he added.
Shakhtar have won the last five national championships. But playing away from home all the time has hit their form.
The team are currently third in the Ukraine Premiership, five points behind leaders Dynamo Kiev.
In Europe, Shakhtar have looked more solid. They blasted 12 goals past BATE Borisov in their two group meetings and their Brazilian striker Luiz Adriano leads the Champions League scorers' chart with nine goals so far.
"It's hard to live and play away from our home for such a long time," said Adriano, who recently made his debut for Brazil.
"But in the existing situation it's absolutely impossible to play football in our home city. We are all seriously worried about our city, our base, arena and all the people who have to stay in Donetsk.
"But despite all these troubles our objectives for the season remain the same: win the domestic title and a place in the Champions League knockout stage."
Lucescu says that Shakhtar were right to move to Lviv and praised conditions there.
Some rumours have said that the 69-year-old coach will resign at the end of the season. But he is determined to take Shakhtar as far as possible in the Champions League.

Load more