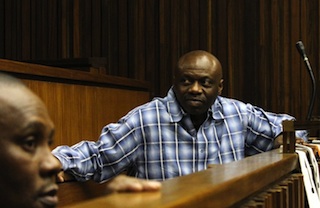 A Nigerian jailed in Johannesburg for masterminding a series of terror attacks in his homeland is to challenge South Africa's right to try him, his lawyer said Wednesday.
Henry Okah was sentenced to 24 years in prison last year for masterminding attacks including twin car bombings that killed 12 people in Abuja on October 1, 2010, and two explosions that March in the southern Nigerian city of Warri, a major hub of the oil-rich Delta region.
South Africa's Supreme Court of Appeal delayed his appeal Wednesday after his lawyers said they were launching a constitutional challenge to his original conviction.
"We are challenging the jurisdiction of the court that tried him," his lawyer JP Marais said.
Okah had been a permanent resident in South Africa and Nigeria never sought his extradition.
The Movement for the Emancipation of the Niger Delta (MEND), a group fighting for a greater share out of the Delta oil wealth, claimed responsibility for the attacks.
A High Court in Johannesburg last year convicted Okah of 13 terrorism charges.
He had denied involvement in the blasts and said the charges were politically motivated.
No date has been set for the next hearing.

Load more