Okafor Ofiebor/Port Harcourt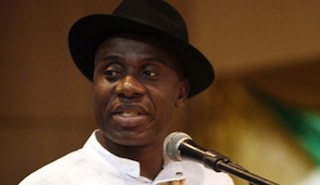 Chairman Committee of Akuku Toru local Government Council said that no fewer than 100 members of the opposition Peoples Democratic Party decamped to the ruling All Progressive Congress in Akuku Toru Local Government Area of Rivers state.
Receiving the decampees at Abonnema during the APC sensitization dialogue on Permanent Voters' Cards (PVC),the Caretaker chairman of the Council, Mr. Otiasah Christian Livingstone said that the defection was a boost and a reassurance that the local government area is one of the strongholds of APC in Rivers.
He told the decampees that APC is a party hinged on liberty, equity, fairness and justice assuring that all the decampees would enjoy the same status with old members without discrimination.
The chairman also assured them that they would not be marginalized in the scheme of things, adding that, together APC will sweep the 2015 polls in Akuku Toru as well as in the entire Rivers state.
Earlier, Mr. Shedrack Aman who led the decamping PDP members said that they decided to decamp to APC having found out that the PDP do not operate based on fairness and justice rather it is made up of personality cults that pursue personal interest without regard to collectivity and the welfare of the people.
In a statement endorsed by Amusa David, Special Adviser to Caretaker Chairman on Media Adviser Publicity said that it was based on this and the handwriting on the wall that PDP will lose woefully in the state that motivated them to decamp to the winning party.
Aman said that he and his fellow decampees would work tirelessly to see that APC coast to victory in Akuku Toru local government area.
Load more