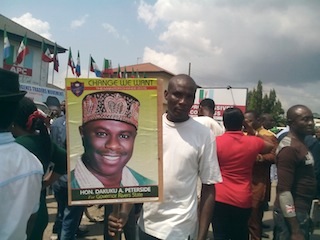 Okafor Ofiebor/Port Harcourt
Dakuku Adolphus Peterside the anointed gubernatorial candidate on the platform of the All Progressives Congress (APC) was at his party's secretariat along old GRA, to collect his governorship nomination form in company of hundreds of APC loyalists.
Addressing supporters after collecting his form, Dakuku said if he wins he will consolidate on the great achievements of Governor Chibuike Amaechi.
He explained that his administration will ensure that the men, women and youths are employed through well though-out programmes on youths employment and poverty alleviation.
While Dakuku was at the party secretariat, youths who claimed to be of Ogoni descent today staged a violent protest at the Government House gate burning tyres protesting and protesting the adoption of Dakuku over Senator Magnus Abe, an Ogoni representing Rivers South East Senatorial district.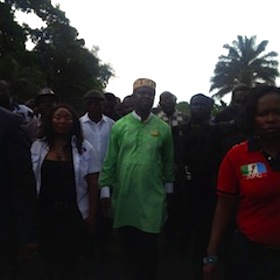 The youths who claimed they were Ogonis said they were protesting at the Government House gate because Governor Chibuike Amaechi refused to influence the endorsement of Abe as the governorship candidate of the APC.
However, Tony Okocha, the Chief of Staff to Government House said the true identity of the protesters was in doubt because the decision on who becomes the candidate of the party was strictly the business of APC as a party and not Governor Amaechi as an individual.
Okocha stated that those protesting did not even allow Government House officials to speak to them on their grievances. "What they did was to start bonfire in front of the Government House gate. If they are Ogonis protesting the decision of the party are they not supposed to protest at the party secretariat?"
Meanwhile, Mr Honor Sirawo, the Spokesman for Senator Abe expressed shock at the protest and distanced Abe and his loyalists from the unruly protest.
"Take it from me, Abe is not part of the protest. He didn't authorise it and he is not a violent person. He is a lawyer and a peaceful person. Senator Abe condemns this violent protest at the Government House gate".
Abe's spokesman said that at the appropriate time Abe will make his feelings public.
Load more