Eromosele Ebhomele
Former Chief Judge of Lagos State, western Nigeria, Justice Ayotunde Philips, has said she is very worried about what is happening in Nigeria following the violence ahead of the nation's general elections in 2015.
She stunned guests at a political symposium at the MUSON Centre, Lagos, when she disclosed that many of her friends were planning to jet out of Nigeria because they fear the country could be torn apart by politicians when the 2015 general elections commence.
Already, there are signs that the election may not be free and fair as Nigerians have continued to lament the meddlesome activities of the country's security agencies in politics.
Speaking as the chairman of the symposium with the theme: 'People, Credible Polls and Good Governance'  organised by the Fatima Charity Foundation, Justice Philips lamented that politicians had taken the people for granted for too long.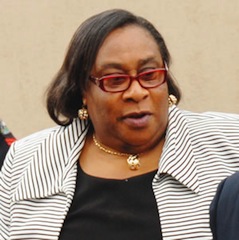 She also said the tension being created by politicians ahead of the 2015 general elections has resulted in fear among the citizens of Nigeria.
She said she was not toeing the direction of her friends but would rather stay back and vote for the best candidates in the elections.
"I'm very worried now about what is going on in this country. Many of my friends have told me they are going to leave the country first week of January and won't be here for the election because they fear there is going to be mayhem, there would be violence, shooting and bloodshed.
"We want to vote for people that would rule the country. Enough is enough. I am not going anywhere. I will be here and I'm going to screen people I'm going to vote for.
"If a person cannot tell me what he is going to do for my state, my local government and this country, I am not going to vote for that person. The only power I have is my vote.
"Nobody is going to be imposed on me. I will vote for any party I know has the proper candidates for me.
"This country is no longer a child. Even many illiterates travel abroad and they see what happens there. Many of our leaders also travel abroad; why can't they do what they see there?
"By now, this country should be better than South Africa because of the amount of money we have. But we get the leaders that we deserve," she lamented, citing the crisis in Ekiti State as an example.
"We can no longer sit back and be sentimental about. I am not going to be sentimental. I don't know about you," she added.
She therefore urged all present to make sure they got their Permanent Voters Cards so they could exercise their franchise when it is time.
"My generation has failed, the one before us has failed, and we are teaching the generation after us the wrong things; we have to take care of ourselves, no country would take care of us," she lamented.
In his lecture, Sam Omatseye, the Chairman of the Editorial Board of The Nation newspaper, listed several challenges facing the country's attempt at a free and fair elections in 2015 urging Nigerians to wake up and enlighten one another.
President of the Foundation, Hajia Bintu-Fatima Tinubu, said it  became necessary to organise the event to enlighten Nigerians about the coming elections.
"Do we need to kill ourselves just to gain power? Why do we give and take bribe to vote for a particular candidate without evidence of performance or credibility of the candidate? Are we really ready to make a difference come next year?
"We must be aware of the serious harm rigged elections can do to the concept of democracy. But above all, the greatest damage remains that bad elections produce bad leadership, bad leadership produces bad governance and bad governance produces bad nation," she explained.

Load more