Okafor Ofiebor/Port Harcourt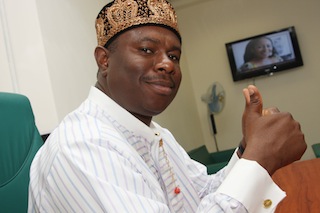 Dakuku Peterside, a member representing Andoni/Opobo federal constituency and the consensus governorship candidate of All Progressive Congress, APC, in Rivers state, has exonerated Senator Magnus Abe, an Ogoni and a fellow strong contender for the governorship slot from the violent protest against his choice at the Government House gate today.
Peterside was reacting to a question on whether Magnus Abe supported his choice as the consensus candidate of the party against the backdrop of a protest preceding his collection of expression of intent form said: "Senator Magnus Abe is my brother, a friend and colleague of the same political tree. I can tell authoritatively that we have discussed along with the stakeholders of the party and he supports my choice. I guarantee you on that."
Abe had distanced himself from the violent protest by some youths who claimed to be Ogonis through a statement signed by Mr Honour Sirawo, his spokesman. He said the youths were not protesting on his behalf while promising to make his feelings known later.
The youths had complained that Governor Chibuike Amaechi promised the Ogonis governorship ticket but denied them by the alleged refusal of the Governor to influence his endorsement by the party.
In a related development, the Caretaker Chairman of Akuku Toru Local Government Area of Rivers State, Hon.Otiasah Christian Livingstone has congratulated Peterside for emerging as the consensus gubernatorial candidate of All Progressive Congress(APC).
The chairman in a congratulatory message said that his emergence is as a result of hardwork, consultation and acceptability. Other qualities of Peterside, he said were impeccability of character and personality as well as great vision and ideas.
The chairman commended the APC for coming up with the consensus idea of selecting a candidate for the party, adding that, a direct primaries would have created rivalry, bitterness and division within the party.

Load more