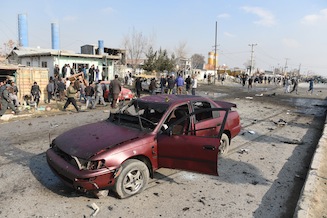 A suicide bomber on a motorbike attacked a British embassy vehicle in Kabul on Thursday, officials said, wounding some foreigners in the latest of a series of strikes in the Afghan capital.
The huge blast could be heard across Kabul and a plume of smoke rose high into the air above the attack site on the Jalalabad road, a main route that houses many foreign compounds and military facilities.
"A British embassy vehicle was attacked. There are some injuries. We are working with Afghan authorities," a spokesman for the British embassy in Kabul told AFP.
Afghan deputy interior minister Ayub Salangi said via Twitter it was suicide motorbike bomb.
Kabul was hit by another major blast on Monday when two US Army soldiers were killed by a bomb attack against their vehicle.
In the eastern province of Paktika, insurgents staged a horrific suicide attack on Sunday, killing 57 people at a volleyball match.
Load more