Cyriacus Izuekwe
A 25-year-old armed robbery suspect arrested by the police in Lagos has confessed that most robbery gangs operating in Lagos metropolis recruit their members from traders at the Ladipo Auto Spare Parts Market in Mushin, Lagos State, western Nigeria.
The suspect, John Sunday, was arrested with one of his gang members, Patrick Ifada, by operatives of the Special Anti-Robbery Squad, SARS, with guns and bullets at Festac Town while going for an operation.
The Enugu State-born Sunday said that despite the fact that the market is known for sale of motor sparts, many of the traders there are also involved in other criminal activities such as bank and highway robbery, car snatching and others.
He said he became involved because of bad friends and had to confess so that God will forgive him and save him from his predicament.
Sunday said when he came to Lagos, he started as a commuter bus conductor and later his friend, Ifada, convinced him to join armed robbery.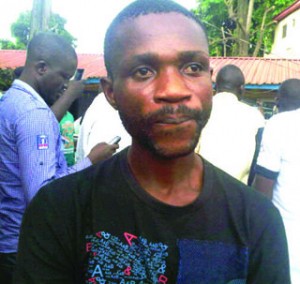 He said he was introduced to different gangs, adding that there are several gangs in the market ranging from beginners, those that have matured known as 'in-between' and and big time robbers.
He explained that beginners are those still learning to be robbers, while those known as 'in-between' are those who had completed their training and do not have means to buy arms for operation.
And those who have assorted weapons and can hire them out to robbers for operation are big time robbers also known as " Ladipo Big Boys".
He revealed that most of people posing as traders are actually robbers, noting that they only use the market as cover and in the night they go for robbery operation.
Sunday said not only the market is used for information dissemination, it also serves as take off base for robbers in the night and other drug related dealings.
He revealed that there are several take off points for robbers in the market. These include Five Star area and some axis that are accessible to Oshodi-Apapa expressway.
"Go there in the evening around 7.00 pm and observe and you will see people mainly criminals from different parts of Lagos assemble in the market to plan and move for operation," he said.
He said he regretted his decision to join robbery as it backfired when he had just married and was trying to settle down.
According to him, he had recently travelled to his home town in Enugu to marry and returned to Lagos to hussle before he was caught at Festac area by SARS.
"If I survive this, I will never go back to robbery again and I do not know what to tell my new wife now. God forgive me," he sang like a canary.
Sunday confessed that he was involved in several robbery operations within the Lagos metropolis before he was arrested.
Sunday and Ifada were paraded by the Lagos State Commissioner of Police, Mr Kayode Aderanti on Wednesday after they were arrested with arms on their way for a robbery operation.
Aderanti said the arrest of the suspects were part of police readiness to rid Lagos of criminals.

Load more