Abiodun Onafuye/Abeokuta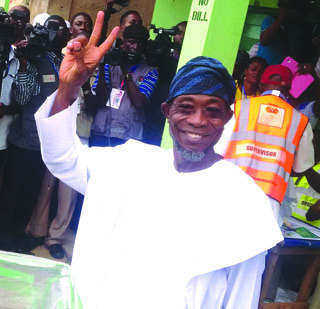 Governor Ibikunle Amosun of Ogun state, Southwest, Nigeria on Thursday declared that the people of Osun has demonstrated that no one, irrespective of any form harassment and intimidation can stop them from doing their wish.
Amosun also decried the invasion of Osun state by security agencies during the last governorship election in the state, noting that, the wishes of the people succeeded.
The governor gave the hint today in Osogbo during the inauguration ceremony of Governor Rauf Aregbesola for the second term in office.
The ceremony which was graced by All Progressive Congress (APC) chieftains from across the country saw the state stand still for the event.
In his goodwill speech, Governor Ibikunle Amosun said, "I congratulate the good people of Osun, you have voted very well and you have shown love and respect despite all intimidations. This is a respect for us and our leaders. I thank you all for your support, you have demonstrated that you will vote for those that will bring change to Nigeria.
"You can all see what the APC governors are doing, we are all living witnesses to the development across all the APC-governed states. We are not relenting until we take all the states in the country and the centre too. I can assure you, by God's grace, similar feat will be recorded across other states and come 29 May 2015, inauguration like this will be going on in Abuja and Abeokuta and other states in the country.
"This is a landmark victory and the good people of Ogun will also demonstrate same feat because we have done what they wanted and we will still continue to give them more dividend of democracy," Amosun said.
Other speakers at the occasion praised the doggedness of Governor Aregbesola advising him to continue with his giant stride feat.
In his own word, the former governor of Lagos state, Asiwaju Bola Tinubu admonished Nigerians to be ready for what he described as "common-sense revolution", saying that this is the only way to send the PDP led government out of Aso rock in Abuja.
"Be ready for common sense revolution, it is our permanent voters card. That is our ability to use our voters card to send these people away. We want a government that will bring relief to the elderly, that will feed our children, give future for our youths, employment, generate electricity to Nigerians and not tell lies from Abuja. It is high time we send them packing.
"For the people of Osun, your courage, determination and steadfastness that no amount of police can steal your votes paid off and here we are today celebrating the victory. We have just started, we will take over this country from them before they collapse it," Tinubu stated.
Load more