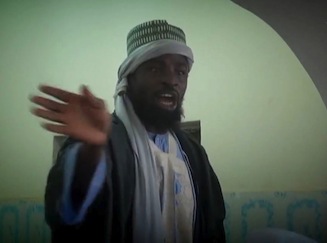 As the West fights to keep its youth from the grip of jihadists, Cameroun's Muslim leaders are struggling to respond to a recruitment drive by Nigeria's deadly Boko Haram.
In this remote northeast corner of Cameroun, some 450 young locals from the town of Kolofata alone joined up over the course of two months, deputy Prime Minister Amadou Ali said in August.
"No to Boko Haram," say signs posted across the region as Muslim authorities seek to keep a closer eye on preaching and teaching in mosques and religious schools.
"We're raising awareness in our mosques through Friday prayers," says Imam Malloum Baba while chatting with residents in Kourgui, about 20 kilometres (12 miles) from the border with Nigeria.
"We're urging people to try to understand true Islam and to not fall into the trap set by these terrorists," he added.
The Islamist fighters of Boko Haram sowing terror in northern Nigeria have stepped up their increasingly sophisticated attacks in Cameroun in their bid to establish an Islamic state.
"Boko Haram claims to preach Islam, but they don't know anything about Islam," said Baba, the Muslim leader. "The problem here is ignorance. People don't necessarily understand our message fully."
Yet communicating is just one obstacle in the region, which has a whopping 65 per cent poverty rate.
There are few opportunities in life here for young people with little or no schooling apart from farming a plot of land that provides a meagre living, a local chief — known as a "lamido" — said on condition of anonymity.
"People are stuck in the system because they didn't go to school and can't get a job. That's the crowd we need to pay attention to," said the leader, a well-known member of north Cameroun's Muslim intellectual elite.
Two months ago shopkeeper Amadou Bachirou, who lives in the far northern town of Maroua, saw his childhood friend join Boko Haram.
"He was very poor and he heard Boko Haram paid well. He told me, 'If you want, we can go together.' But I can't go. I know he is now sending money to his family," Bachirou told AFP.
– Hiring bonus –
Boko Haram pays a "hiring bonus" of up to 500,000 Francs CFA (about 760 euros) and a monthly salary of 100,000 Francs CFA (about 150 euros), according to intelligence sources.
This amounts to a fortune for young people who, if lucky enough to have an income, don't make more than 60 euros per month.
Muslim leaders on the front line of this struggle for young people's allegiance face dire choices as Boko Haram attacks multiply.
"At first we encouraged imams to directly denounce Boko Haram in their sermons, but many preachers and teachers had their throats slit, so we've had to come back to a more general message about peace and tolerance to keep them safe," a Maroua religious leader said.
He added: "These barbarians have nothing to do with our tolerant Islam. Many people fall into the trap of the simplistic idea that religious school is a gateway to Boko Haram."
National leaders too insist that Islam in Cameroun is moderate and tolerant.
"Imams even go to churches for ecumenical prayers, that's Islam in Cameroun," said government spokesman Issa Tchiroma Bakary. "It's our society's model and we aren't ready to give it up for anything."
It seems there are plenty in Cameroun who would agree, with villagers gathering intelligence and even confronting Boko Haram themselves.
"There have been some cases where guys from Boko Haram were attacked with machetes," by locals, an unnamed Camerounian military officer told AFP.
By Celia Lebur

Load more