Cyriacus Izuekwe
A 24-year old reggae musician has confessed that frustration drove him into armed robbery.
The suspect, Onyekachi Oshodi, was arrested with one of his gang members, John Sunday, by operatives of the Special Anti-Robbery Squad, SARS, with guns and bullets at Festac Town while they were going for a robbery operation in Lagos State, western Nigeria.
Akwa Ibom State-born Oshodi said he came to Lagos five years ago with the hope to rise to stardom with his music career but could not make any head way.
He said he looked for sponsors and assistance for several years and became frustrated.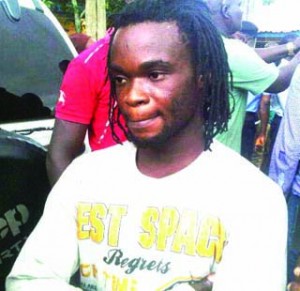 He said he decided to take up arms to rob in order to achieve his dream.
"Nobody was willing to assist me despite the fact that I have creative ability and can sing well," he said.
Oshodi said when it was obvious that his relatives and others in position to assist him did not, he went to his village and took a pistol he kept there and came back and recruited some men for robbery in Lagos.
He said it was during one of their operations in Festac area that he was arrested with his gun and bullets by SARS.
He said he made some money from robbery which he used to buy more weapons, properties and married his wife who is now pregnant for him.
He said he would have quit robbery since but could not because he was making money from it.
On how he got the gun, he said when he was in his native town, he was a robber and at a time he decided to quit and come to Lagos to pursue his music career.
He narrated his frustration as a musician, saying he trekked from one studio to another on empty stomach and was not given a chance to exhibit his talent.
On how he formed his gang, he said one of the suspects arrested with him, John Sunday, facilitated it by going to Ladipo Market  to recruit members for operation.
Oshodi and Sunday were paraded by the Lagos State Commissioner of Police, Mr. Kayode Aderanti on Thursday.
While parading them, Aderanti assured that the police would get rid of criminals in the state.

Load more