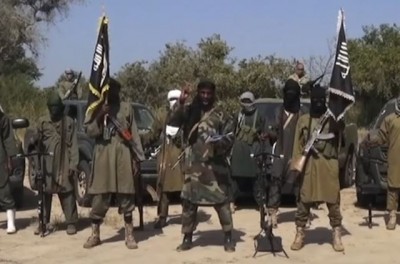 At least 92 people have been confirmed dead at one hospital morgue following three explosions in Kano. Earlier, 64 people were confirmed dead and 126 injured on Friday when two suicide bombers blew themselves up and gunmen opened fire during weekly prayers at a mosque of one of Nigeria's top Islamic leaders.
The attack at the Grand Mosque in Kano, the biggest city in the mainly Muslim north of the country, came just as Friday prayers had got under way.
The mosque is attached to the palace of the Emir of Kano Muhammad Sanusi II, Nigeria's second most senior Muslim cleric, who just last week urged civilians to take up arms against Boko Haram.
The blasts came after a bomb attack was foiled against a mosque in the northeastern city of Maiduguri earlier on Friday, five days after two female suicide bombers killed over 45 people in the city.
National police spokesman Emmanuel Ojukwu told AFP that the bombers blew themselves up in quick succession then "gunmen opened fire on those who were trying to escape".
Ojukwu said he did not know whether the suicide bombers were male or female, after a spate of attacks by women in recent months, and did not give an exact figure on the number of gunmen.
But he said an angry mob killed four of the shooters in the chaotic aftermath.
– Influential figure –
Worshipper Aminu Abdullahi and local resident Hajara Tukur both said that there were two explosions in quick succession and a third in a nearby road.
A senior rescue official said 64 bodies had been brought to just one Kano area hospital, while 126 people had been admitted with injuries at three facilities.
"Those figures are going to climb," he said on condition of anonymity, as he was not authorised to speak to the media.
The Emir of Kano last week told worshippers at the same mosque that northerners should take up arms against Boko Haram, which has been fighting for a hardline Islamic state since 2009.
He also cast doubt on Nigerian troops' ability to protect civilians and end the insurgency, in rare public comments by a cleric on political and military affairs.
The emir, who is currently thought to be out of the country, is a hugely influential figure in Nigeria, which is home to more than 80 million Muslims, most of whom live in the north.
Officially the emir is the country's number two cleric, behind the Sultan of Sokoto, and any attack could inflame tensions in Nigeria's second city, which is an ancient seat of Islamic study.
Sanusi was named emir earlier this year and is a prominent figure in his own right, having previously served as the governor of the Central Bank of Nigeria.
During his time in charge of the CBN, he spoke out against massive government fraud and was suspended from his post in February just as his term of office was drawing to a close.
– Previous attacks –
Boko Haram has repeatedly attacked Kano before. On November 14, a suicide bomb attack at a petrol station killed six people, including three police.
The Islamists have a record of attacking prominent clerics and in July 2012, a suicide bomber killed five people leaving Friday prayers at the home of the Shehu of Borno in Maiduguri.
The Shehu is Nigeria's number three Islamic leader.
Boko Haram threatened Sanusi's predecessor and the Sultan of Sokoto for allegedly betraying the faith by submitting to the authority of the secular government in Abuja.
In early 2013, the convoy of Sanusi's predecessor was also attacked.
Andrew Noakes, co-ordinator of the Nigeria Security Network of security analysts, said the attack fitted a pattern of violence targeting religious and traditional leaders seen as "allies" of the state.
He said it was possible that the group carried out the attack as a direct response to Sanusi's comments last week, although it may have been planned beforehand.
"Whatever the case, the group has sent a message to northern leaders that crossing them will have consequences," Noakes said in an email exchange.
Boko Haram attacks in recent months have ranged from the far northeast of Nigeria, across the wider north and northwest, using hit-and-run tactics, suicide bombings and car bombs.
The authorities in Cameroon, Chad and Niger have all expressed concern about Boko Haram's ability to conduct cross-border strikes, particularly as the dry season approaches.
The group's use of female suicide bombers, which dates back to June and saw four women blow themselves in Kano in a week in July, has been seen as a tactic to sow wider fear and panic.
Load more