Henry Ojelu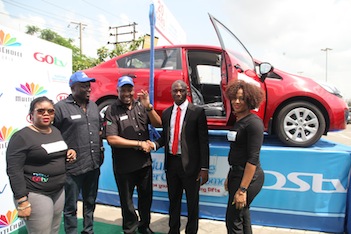 In keeping faith with its promise to reward subscribers, MultiChoice Nigeria, the leading pay-tv content provider for DStv and GOtv has launched the MultiChoice Super Cruise Promo. This promotion allows intending subscribers and existing subscribers to buy or subscribe their way to winning one of 20 Kia Rio cars.
Addressing the media at the launch of the promotion, General Manager Marketing, MultiChoice Nigeria, Martin Mabutho said MultiChoice is committed to consistently rewarding its loyal customers.
He emphasized that apart from the 20 Kia Rio cars, MultiChoice is also giving away 100 Plasma TV screens, or 30 DStv Exploras decoders to DStv and GOtv subscribers.
Mabutho explained that to enter for the promotion, all the subscribers need to do is to buy a DStv decoder which comes with a dish, pay three months subscription on either Compact, Family or Access Bouquets.
"It's so simple, once you buy the decoder and pay three months subscription, you automatically qualify for the weekly draw where you could win any of the amazing prizes," he remarked.
Existing DStv subscribers can also enter the competition by ensuring they remain connected for three months. "We are giving our existing subscribers a chance to also cruise away in a Kia Rio, simply by staying connected to DStv" Mabutho said.
Accordingly, a GOtv subscriber who gets to buy GOtv decoder which is sold for 2,900 with one month subscription and makes an additional two months subscription with the GO-recharge card, stands a chance to cruise home in one of the 20 Kia Rio cars.
The promotion which runs from November, 2014 – 6 February, 2015 will select winners from both existing and new subscribers, in a weekly draw from the duration of the promotion.

Load more